Bishop Gate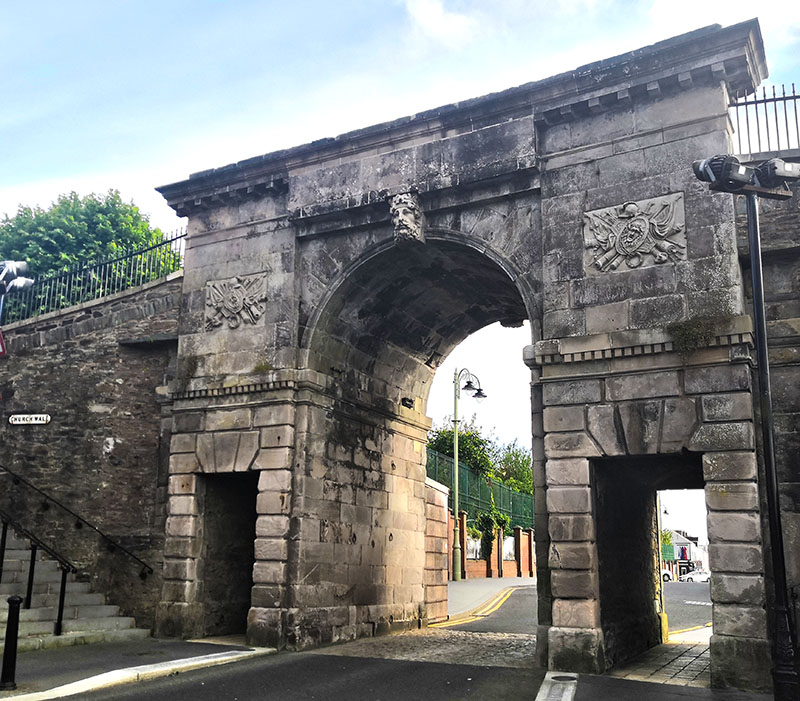 Bishop's Gate was one of the 4 original gates to the city and was named because it was adjacent to the Bishops palace. Originally it would have had a single arch and battlements on top of it and a drawbridge as outside there was a dry ditch to hinder attackers. The gate was extensively remodelled by Bishop Frederick Hervey in 1789 at the centenary of the closing of the gates, turning it into the most extravagant gate of the city. The sculpted head were created by Edward Smyth, the one on the inside represents the River Boyne and the one on the outside represents the River Foyle.
This gate was where James II approached to request the city surrender but was fired upon instead. the road leaving this gate would have went all the way to Lifford, it is now Bishops Street Without and leads into a mainly residential area. From this gate on the inside you can see the bishops palace and courthouse on the outside is the remaining tower of the former city Jail. This gate was a point of a lot of confrontations during the Troubles, on the left side after exiting the gate is the fountain a protestant residential area and on the right are catholic areas including the Bogside. The outside of the gate is now dominated by a peace wall built to separate the 2 areas.
Part of
The Derry Walls

The Derry Walls are the most complete set of town walls in Ireland and the largest ancient monument in Northern Ireland. They were built by the Honourable the Irish Society between 1613 and 1619 to protect the new plantation city of Londonderry after the previous attempt to establish a settlement was destroyed. Like much of the old city fortifications across the world they now stand as a tourist attraction with many people coming to the city to walk along the walls.