BNCR Waterside Railway Station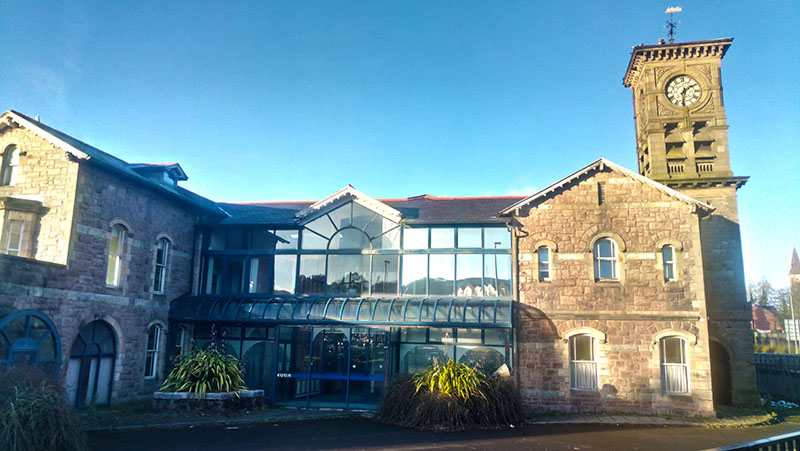 The original Waterside station building was built 1852 by Steven Alfred Campbell and ran a service to Coleraine for Londonderry & Coleraine Railways. In 1860 the track was extended to Belfast, L&CR was taken over by Belfast & Northern Counties Railway and the station was rebuilt into the current building in 1874. Rail travel was a very popular mode of travel to and from the city on its 4 lines and even the lower deck of the Craigavon Bridge was once a rail bridge. Around the time of the 2nd world war road travel started to thrive and rail travel started to drop, by 1965 only this station and a single line remained active.
The building was damaged by bombs and forced to close in 1980 and got replaced by a smaller station located nearby. After an extensive refurbishment and upgrade the railway line was moved back to this old Victorian train station which now also offers bus services and has been renamed as the North West Transport Hub. There is now hourly services going to and from Belfast on the line arriving at this station.
If arriving at this station there are buses that will take you to Foyle Street which will leave you in close proximity to many of the cities hotels and attractions. If the weather isn't too bad and you aren't carrying too many bags, a pleasant 1KM walk along the greenway towards Ebrington Square and across the Peace Bridge, offers excellent views of the city, and will leave you right next to the Guildhall in close proximity of many of the cities hotels and attractions.
Train Station

Trains in Derry are operated by Translink and run every hour between Belfast and Derry with stop in key locations along the way.