Artillery Bastion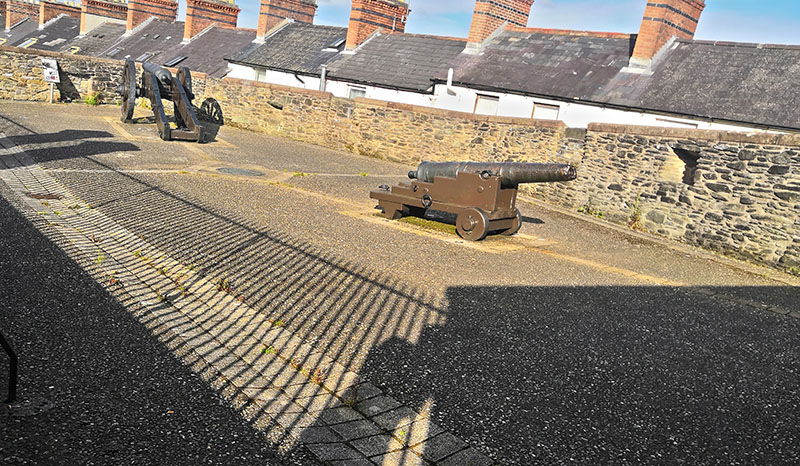 Artillery Bastion got its name from the artillery stores located next to it, the street next to it is also called artillery Street. Prior to mid-18th century it was called Ferry bastion as it overlooked the location where ferry's crossed the Foyle. The cannon on a large field carriage was commissioned by the Salters company in 1642 and the damaged cannon on the ship carriage was commissioned by the London Corporation in 1624, the damage on it happened during the siege when a cannon ball exploded while stuck in its muzzle.
This bastion is completed surrounded by houses on the outside these were built in the 19th century when the city out grew the walls, before that there was dry moat on this side of the walls that ran round to Double Bastion. Inside the walls is the Playhouse theatre in the former buildings of 2 girls schools, its also close to where the first theatre of the city was built at the top of the street.
Part of
The Derry Walls

The Derry Walls are the most complete set of town walls in Ireland and the largest ancient monument in Northern Ireland. They were built by the Honourable the Irish Society between 1613 and 1619 to protect the new plantation city of Londonderry after the previous attempt to establish a settlement was destroyed. Like much of the old city fortifications across the world they now stand as a tourist attraction with many people coming to the city to walk along the walls.