Waterside Theatre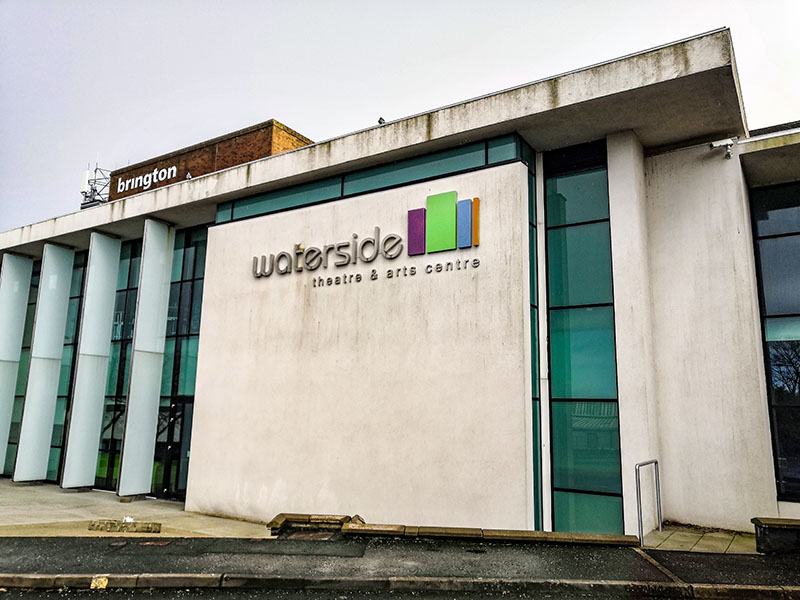 The Waterside Theatre is a 372 seat theatre in the Waterside area based in the former Ebrington shirt factory. The shirt factory was closed in the 70s and left derelict until Maydown Ebrington Group took it over to expand their training operations and in March 2001 the new Ebrington Centre was opened. Part of this project was to open a major complex to facilitate the arts and social life of the area this included a 372 seat auditorium with removable seating that opens up a large floor space for a range of purposes.
In 2007, funding was secured to expand the facilities of the Waterside Theatre, this included a new theatre studio, a separate entrance with a new box office, exhibition space and a café bar. The extension was fully completed in 2009 and allowed the Theatre to offer an extensive and inclusive education programme, deliver programmes to young people with learning disabilities, facilitate a youth theatre company, an over 60s drama club and run various programmes to compact social issues such as isolation & hate crime.
The gallery space in the Theatre has 32 meters of hanging space that displays work from international & local artists and also displays work from schools & community groups. There is modern conferencing facilities that can accommodate up to 700 people and free onsite parking for as many 100 cars. Refreshments can be got from the modern bravo café-bar which is fully licenced but currently only open during theatre performances and conferences. The auditorium also doubles as a cinema that can be used to view movies or locally produced films.
Visitors should check out what's on in the Waterside Theatre by visiting their website below or checking the events section in app to see what is on during your visit. The theatre performance programme includes a wide range of different events including; drama, contemporary dance, ballet, live music, comedy, children's theatre and traditional/cultural events.
Ebrington Factory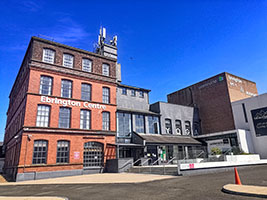 The Ebrington Factory was built in 1892 and made shirts for Young & Rochester, it was designed by William Barker and was extended in 1895 and 1900 by Daniel Conroy. The factory closed in the 70s but was recused from demolition by Maydown Ebrington Group in the 90s who opened the Ebrington centre in 2001.