Magee University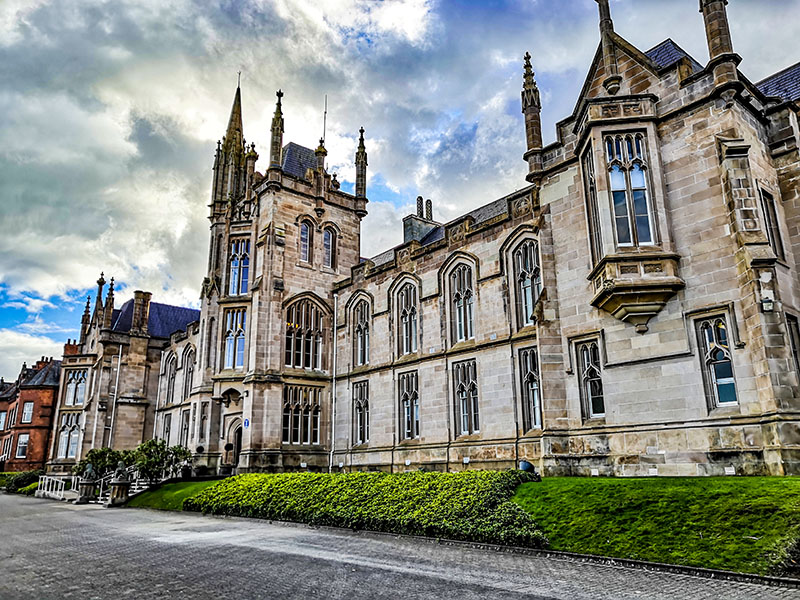 Magee University is a campus for Ulster University it has a broad range of undergraduate and postgraduate degree programmes for around 4500 – 5000 students each year. It was built in 1865 by the Presbyterian church of Ireland after receiving a sizable bequest in the will of Martha McGee. Martha McGee was a philanthropist and widow of a Presbyterian minister, she inherited a large amount of money from her 2 brothers that were both very successful in the military and she left the majority of the money to Presbyterian charities including £20,000 to establish a college for theology and the arts.
It took a long time before the college was built, while the donation was considerable a college requires long term support and gaining that support in Dublin would have been difficult as it already had trinity College and in 1849 Queen's College Belfast opened. They were able to receive additional support in Londonderry from Rev Richard Dill's will, local businesses such as McCorkell Shipping Line, the Honourable the Irish Society and land was received from the city itself. In 1865, almost 20 years after the death of Martha McGee, Magee College was finally opened.
The building is one of the most magnificent buildings in the city, it was designed by A. P. Gribben from Dublin and built from Scottish Sand stone. It was considered for the college to be inclusively for Presbyterians but from the start it accepted people from all faiths. Magee wasn't recognised as a university till 1880 when it joined the newly formed Royal University of Ireland. When the Royal University of Ireland was dissolved in 1909, Magee became an autonomous university college, where students had to complete their degrees in trinity college Dublin.
The building had a major role in World War II, it was taken over by the Admiralty for the Royal Navy who were also using Ebrington Barracks. There was a secret bunker on the grounds that is now buried under the lawn that was one of 4 bunkers used to coordinate 1 million allied personnel during the Battle of the Atlantic. In 2013, it became the first place in Ireland to host the Loebner Prize, which is a contest on artificial intelligence that is based on the Turing Test, created by Alan Turing who was key to breaking the enigma code during World War II.
Battle of the Atlantic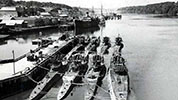 The Battle of the Atlantic was the longest continuous military campaign in World War II, Britain was dependant on imports and Germany sought to block supplies mostly from America across the Atlantic. Derry ended up as the largest naval base in Western Europe with 140 ships in the fopyle at once at its peak, Ebrington barracks was set up as a shore base called HMS Ferret, which was responsible for 149 escort and anti-submarine vessels.
It wasn't till 1953 that Magee received any meaningful government funding but when it was decided by the government that a new university would be set up in Northern Ireland, rather than use Magee they built a new university in Coleraine in 1968 and planned to close Magee. This helped fuel the troubles that were just starting as it was widely believed that the reason for this decision was because Derry was mostly Catholic and Coleraine was mostly protestant. In the end Magee was merged with the new University of Ulster. While the religious affiliation of the college was officially dropped in 1953 the theological college at Magee remained open till 1978 when it was merged with Assembly's college and moved to Belfast.
Magee has grown considerably over the years, it now has several buildings on the same site with a residential hall and sports facilities nearby but still lags far behind universities in similar sized cities because of lack of proper investment. There has recently been promises made to expand the university to 10,000 students but after making major investments in other campuses the Ulster University says it might not be achievable despite £85 million being put aside from local city deal funds for an expansion. So far an increase of 800 students by relocating the School of Health Sciences has been confirmed. This has led to growing interest of splitting Magee from Ulster University and forming an independent university.