Diamond War Memorial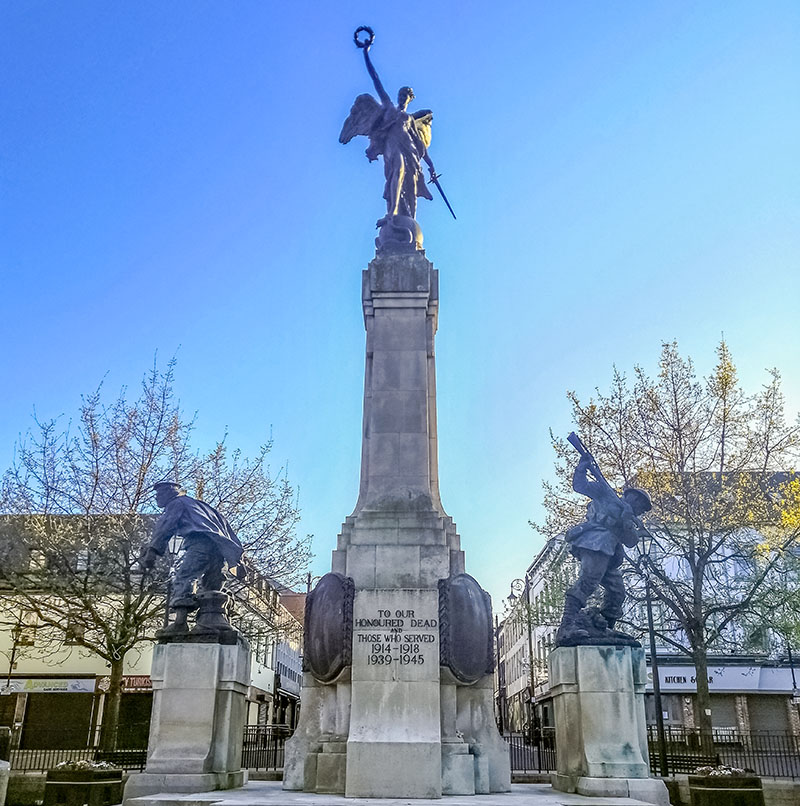 Planning for the War Memorial first started in 1919, when leaders decided that memorial of granite or bronze with the names of the fallen inscribed on it should be built and set up a committee led by Sir Robert Anderson to oversee it. It took a long time to get built and people started to get impatient, it took 5 years to gather the funding to construct it from charitable sources, by April 1925 the design and location were agreed by the War Memorial Committee but the Londonderry Corporation disagreed with the location causing further delay.
The memorial was designed by 2 brothers Sydney & Vernon March, who came from a large family were 8 of the children became artists and was sculpted by Vernon March. The Memorial consists of 3 bronze figures on separate Portland Stone bases, the tallest centre monument is a winged victory statue holding a laurel wreath, beside it there is a soldier representing the army and a sailor representing the Navy. On the monument there are names of 755 men and one woman that died in the First World War although later records showed that over 1150 people with links to the city died in the war.
It was originally planned to unveil the statue on armistice day in 1927 but it was not ready and instead it took place on 23rd June 1927. The unveiling was done by the General Officer Commanding the Northern Ireland district, Mayor-General F.F. Ready and chaired by the wife of Robert Anderson as he was unable dot attend due to illness. The British Legion served as honour guard and the band of the 1st Battalion and a large choir performed at the unveiling and dedication. After the dedication floral tributes were placed by relatives, former units, regimental associations and public bodies.
The Diamond War Memorial is in what is probably the most prominent location in the city, its site of the former town hall that preceded the Guildhall and at the meeting point of the 4 roads coming from the 4 original gates of the walls. Its right at the heart of the city and visible from the top of all 4 of the original gates. In 2007 there was an extensive project by the Hollywell Trust to raise awareness of the war memorials in the North West and the citizens who died in the war (linked below). Something interesting discovered in the project is that there is an almost equal proportion of unionist and nationalist names on the memorial.