Verbal Arts Centre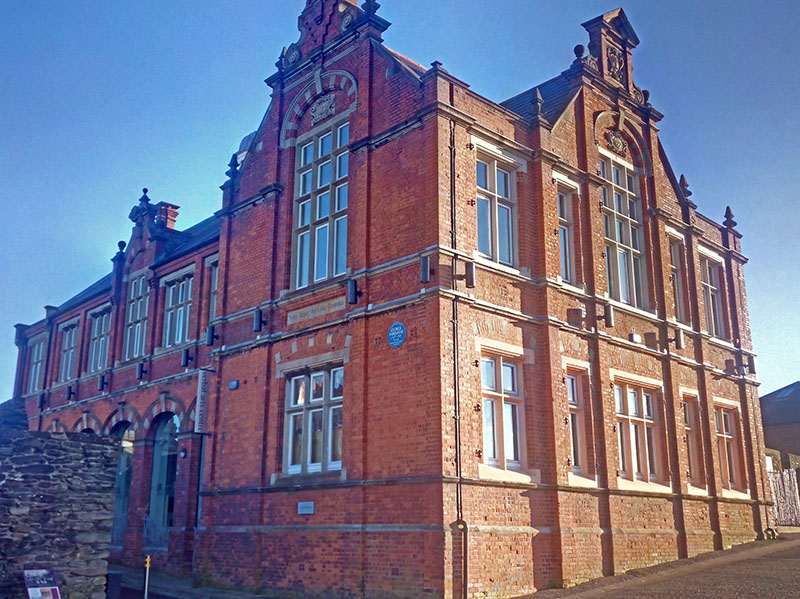 The Verbal Arts Centre was established in 1992, it is the only centre in Ireland devoted to literature and the language arts. Their aim is to promote and develop the verbal arts and they believe that everyone should live in a world where every story matters; everyone regardless of ability, background, or circumstances – should have the opportunity to tell their story; to make a better, fairer, and more equal society.
In 2000, the education charity moved into the newly refurbished listed building of the former First Derry National School. The building was built for the school after it outgrew its old building and they moved to it in 1894. The building is in the popular Queen Anne revival style, it was designed by W E Pinkerton, it has an asymmetrical red-brick design, with high roofs, Dutch gables, tall chimneys and mullioned windows.
The first Derry National School was merged with 2 other local schools in 1995 and the new school is located nearby in the fountain. The building was restored and extended in 2000 by architects Hall Black Douglas whose work establishes a narrative thread from dark to light, rising through the levels of the building. The school's partially covered playground is now the reception hall and the two former classrooms on the first floor are almost completely intact.
The building is a major feature and highly visible on the walls, the Verbal Arts Centre currently run multiple programmes to help people tell their stories and publish graphic novels and illustrated books by new and emerging writers. They offer events space, there is a café onsite and books are sold at the reception. There is a plaque on the wall outside for George Farquhar, an Irish dramatist that lived through the siege, he attended the former Free School which was on/near this site.