Train Station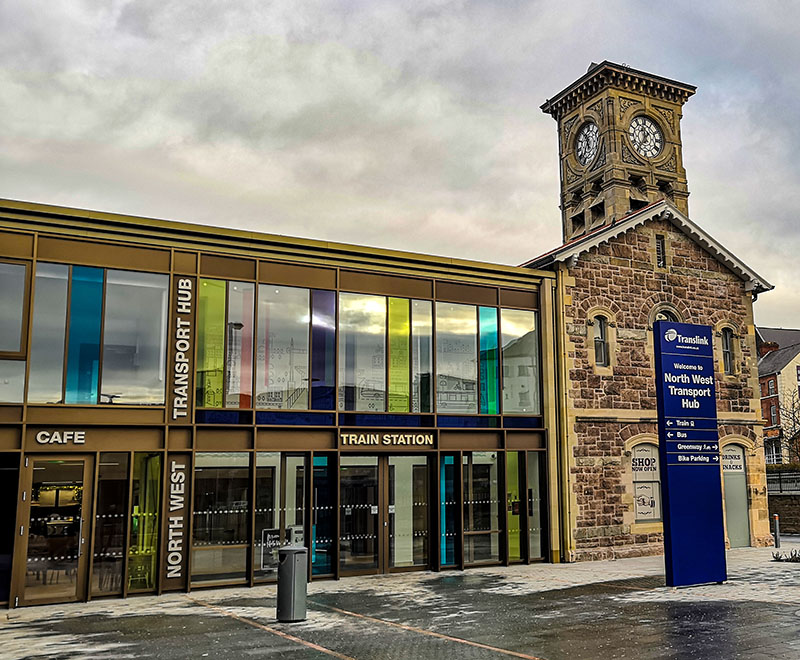 The North West Transport Hub is the only train station in the city, it is operated by Translink and is located in a historic Grade B Victorian train station built in 1874. It has an hourly service(2 hours on Sunday) from Belfast with stops at Templepatrick, Antrim, Magherabeg, Ballymena, Killagan, Ballymoney, Coleraine and Bellarena, there is also a connecting service to Portrush changing at Coleraine.
The train station offers a 100 space car park for park and ride travellers, there is secure storage for bicycles & bicycles can be taken on the train, there is a connecting bus service between the station and the main bus station in Foyle Street and there is cycle and footpath network that connects directly to the station.
If the weather isn't too bad and you aren't carrying too many bags, a pleasant 1KM walk along the greenway towards Ebrington Square and across the Peace Bridge, offers excellent views of the city, and will leave you right next to the Guildhall in close proximity of many of the cities hotels and attractions.
BNCR Waterside Railway Station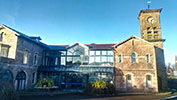 This Victorian Railway Station was built in 1874 by Belfast & Northern Counties Railway, it was one of 4 stations in the city and is now the only one that still exists. It was damaged by bombs forcing it to close in 1980 and be replaced by a smaller station. In 2019 after extensive refurbishment and upgrade the line was moved back to this station.