Tower Museum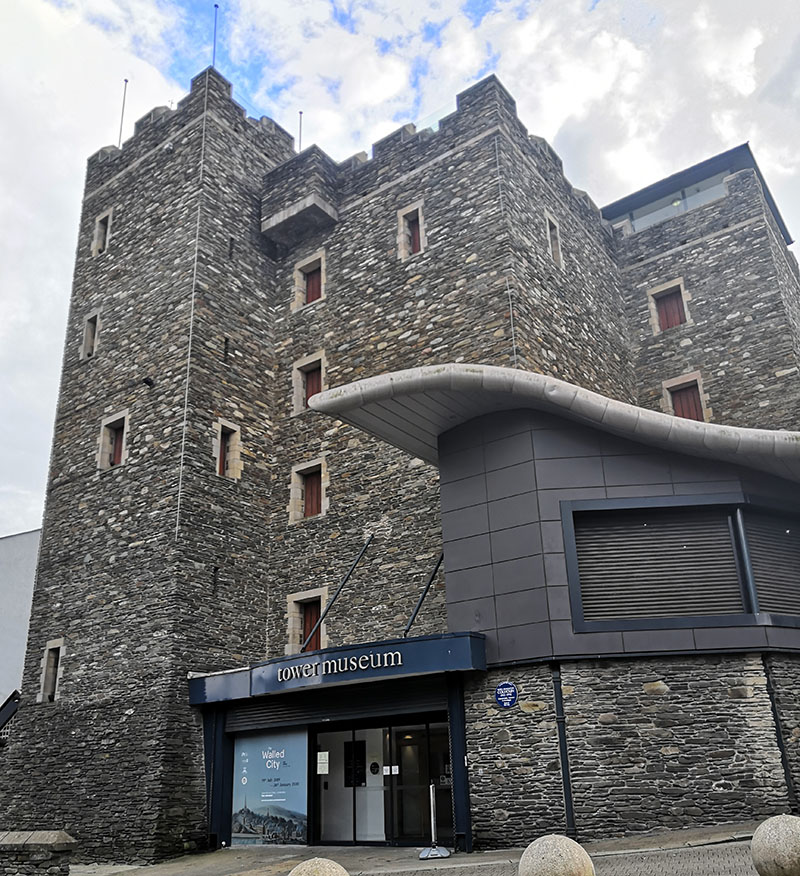 The Tower Museum is based at the O'Doherty Tower which is a modern reconstruction of a tower that was located there in medieval times. It is located just within the city walls on Union Hall Street next to Magazine Gate and has an entrance in the craft village too. The top of the tower is open to visitors and provides an open air panoramic view of the city centre.
It was opened in 1992 and has since won several awards, it has 2 permanent exhibits; The Story Of Derry and An Armada Shipwreck – La Trinidad Valencera. The story of Derry covers the history of Derry from prehistoric origins right up to the present, it covers the key events including; the Monastic Settlements, the Siege and the troubles. The Armada exhibit details the local shipwreck from the Spanish Armada that sank in 1588 in Kinnagoe Bay, Co. Donegal and wasn't discovered for almost 400 years when divers from the City of Derry sub Aqua club discovered it.
The museum also has temporary exhibits that change regularly and is home to the Mabel Colhoun exhibit, who was an archaeologist from Derry that documented many archaeological monuments and transcribed stories & folklore in Ireland, many of which were previously unrecorded.
Mabel Colhoun

Mabel Remington Colhoun (1905-1992) was a pioneering woman, who had limitless energy and functioned in many roles in her lifetime. She was a teacher, a co-founder of the Nursery Schools in Derry, artist, traveller and archaeologist among other things.
The Tower Museum's Collection is one of the must see attractions in Derry, the detailed tour available is not only educational for visitors but also for locals of the city.