The Playhouse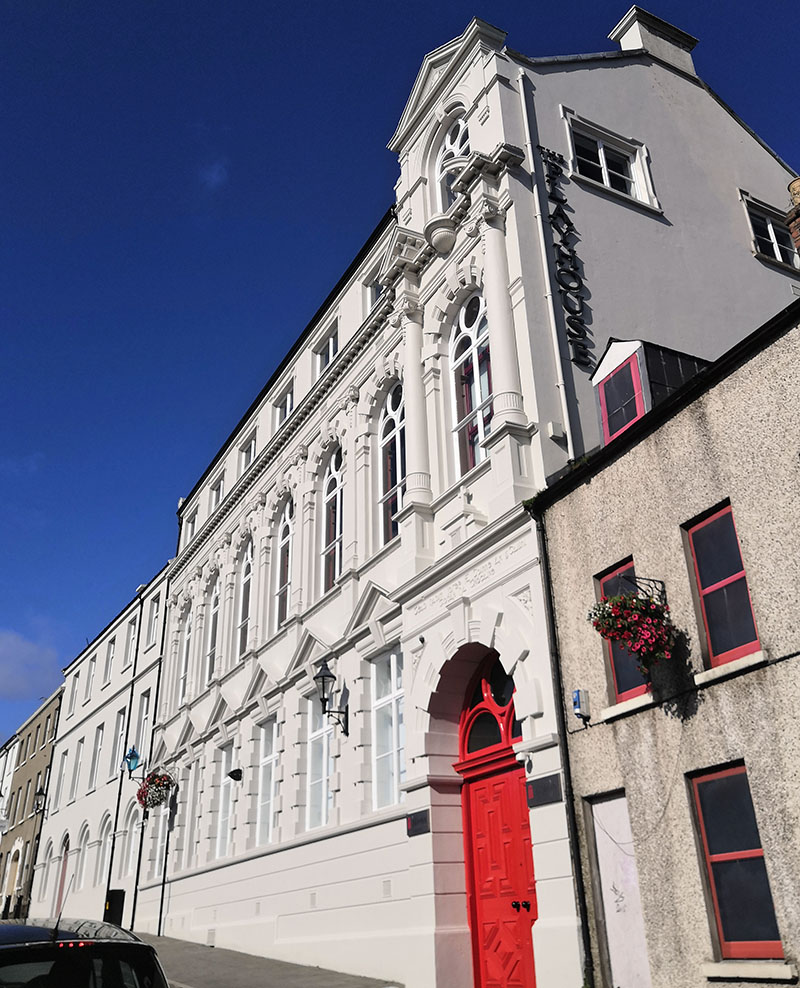 The Playhouse was established in 1992 by Pauline Ross using a grant of only £300, it delivers Arts, Education and peacebuilding programmes to the whole community. The vision of the Playhouse is "To Create Community, Celebrate Diversity and Empower People through the Arts" it's mission "Is to deliver creative, innovative and accessible Arts, Education and Peace-building Programmes that enrich the lives of the people that we serve." and does this with 4 core values" community, creativity, quality and sustainability. These values describe who we are, what we stand for and how we function."
The buildings on artillery street were once 2 girls schools, the St Mary's convent and St Joseph's school. St Mary's built in 1886, was originally to be a school for homeless girls but ended up a girls high school, it was moved to Thornhill in 1932 and St Joseph's built next to it in 1911 remained in the building till 1981. In 1986 they were both almost demolished but it was refused and the buildings were grade II listed instead. The Playhouse quickly turned the aging buildings into an award winning cultural project but the condition of the buildings only got worse. After securing £4.6 Million funding from the National Lottery Heritage Fund and other sources, the Playhouse was relaunched in November 2009.
The redevelopment was designed by Blonski Architects, it focused on fusing the 19th & early 20th century architecture with modern features. It is one of the best examples of how listed buildings can be repurposed for modern use but retaining the character they had when first built. The design has won numerous awards including the British Urban Regeneration Award and the Playhouse's example of how listed properties can be sympathetically restored and fused with modern design, has encouraged other large properties to adopt a similar approach.
Following the refurbishment the Playhouse became the largest community arts centre in Northern Ireland and now contains; a 175 seat theatre, a dance studio, a gallery and an education & outreach centre. It has around 15,000 people attending it's Education, Community Relations and Peace Building programmes, that provide training and opportunities in the arts for people in marginalised groups. There are also thousands of people attending its performances with around 150 nights of theatre, opera, music and comedy each year and hundreds of thousands of people viewing the shows online.
Visitors to the city should check out their website listed below to see what is on during their visit, take the opportunity to view one of the unique productions at the Playhouse and view its award winning design while there.