St Eugene's Cathedral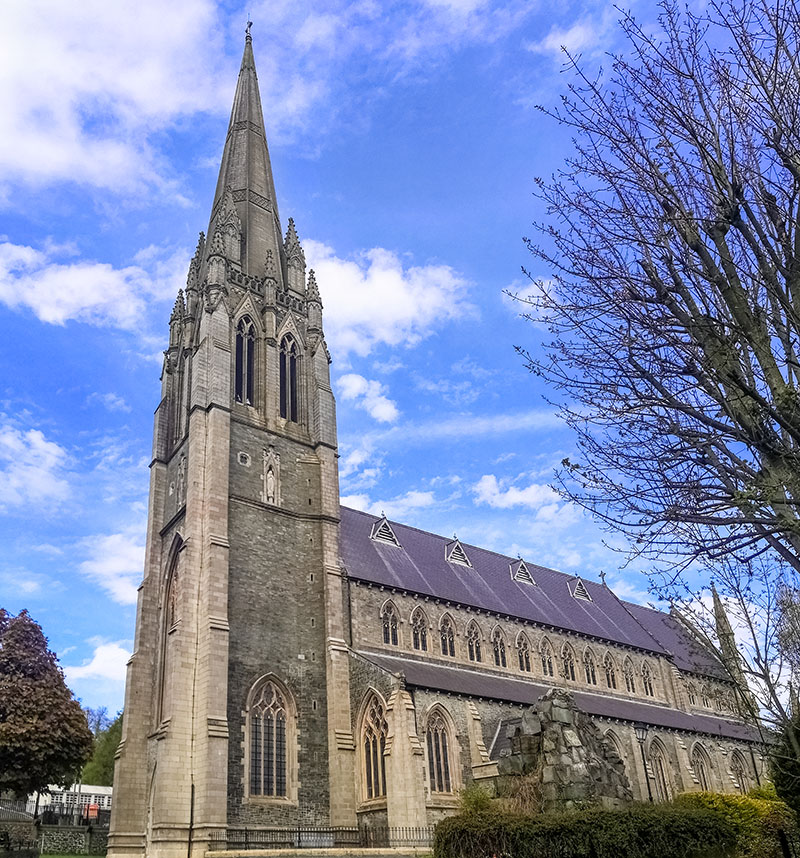 St Eugene's Cathedral is a Catholic Cathedral designed by James Joseph McCarthy with a simple neo-gothic style. There were many obstacles to completing the cathedral and it took a long time to be built. Firstly it wasn't possible to build a Catholic Cathedral in Derry until the Roman Catholic Relief Act 1829, it didn't take long after that for planning to start on building one. Fundraising for the Cathedral started in 1840 and took 9 years to gather the £40,000 required, about £4,000 of that was raised in America. Work started in 1849 and it was officially opened in 1873 but the bell tower & spire were postponed because the funds were insufficient. The windows also had to be left as plain glass until the late 1980s when they were replaced by stained glass and work finally began on the bell tower & Spire in 1900. It took 3 years to build the bell tower & spire so in total it took 63 years(1940-1903) from fund-raising until the Cathedral was fully completed.
The Cathedral is the Mother Church for the Catholic diocese of Derry, which stretches from Malin Head(North) to Omagh(South) and from Killygordon(East) to Bellaghy(West). It is also the parish church for the parish of Templemore (around 10,500 Catholic parishioners) and a full mass timetable & sacraments are performed at the Cathedral. The Catholic bishops of Derry reside in the parochial house next to the Cathedral, the most famous of them being Bishop Edward Daly, famous for being active in peaceful civil rights events and speaking out against violence.
Edward Daly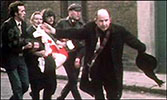 Edward Kevin Daly, D.D. (5 December 1933 – 8 August 2016) was an Irish Roman Catholic priest and author. He served as the Bishop of Derry from 1974 to 1993. Daly took part in several civil rights marches and events during the Troubles. He came to wider attention during Bloody Sunday in January 1972, waving a blood-stained white handkerchief as he escorted a group carrying a mortally wounded boy after British troops opened fire on demonstrators.
St Eugene's Cathedral is one of the most prominent buildings in the city its spire & bell tower is the tallest building in the city, it is visible from most of the city and its bells can be heard for a large distance around it. There are audio tours of the Cathedral available, one of the most interesting artefacts to view are 8 oak statues for Saints Columba, Patrick, Matthew, Mark, Luke, John, Mary and Joseph that are just inside the entrance, Doire the Irish for Derry means oak grove.