St Columb's Park House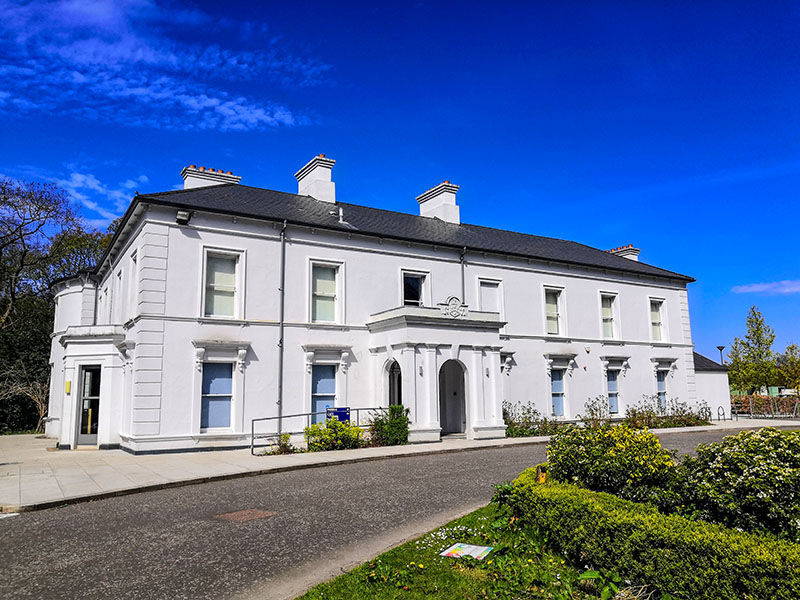 St Columb's Park House is currently a community business but it has a long history. It was built by Lieutenant John Rea, an officer in the Royal Navy in 1788 and passed down to his daughter who married into the hill family, baronets who owned Brooke Hall (next to the Foyle Bridge now). It passed onto the Cooke family in 1890 before being bought by the local council in 1937 and being made part of the newly created St Columb's Park.
During World War II because of its close proximity to the Ebrington Barracks and Clooney base it was used as a military hospital and soldiers injured in the battle of the Atlantic were treated in it. It remained in use by the health board as it was left in a state well suited for it after WW2. In 1985, it was vacated by the health board and fell into a state of disrepair.
It 1993, the house was refurbished and the St Columb's Park Reconciliation Trust was set up to manage the house as a centre for reconciliation. Over the years a range of programmes have been run to benefit people from all demographic and social backgrounds and the house now offers conference, wedding and residential facilities. There is also a family run café with indoor and outside seating, that is suitable for the whole family.
A peaceful stroll through St Columb's Park and lunch from the café in St Columb's Park House in the well-kept garden is a great way to spend a sunny day with the family.
St Columb's Park

St Columb's Park is a 70 acre park in the Waterside area, it contains the remain of St Brecan's a medieval church, the historic St Columb's Park House, the Foyle Area and leisure facilities. A greenway running through the park links it with much of the city, which goes just past the Foyle Bridge in the north and Craigavon bridge in the south.