St Columb's Hall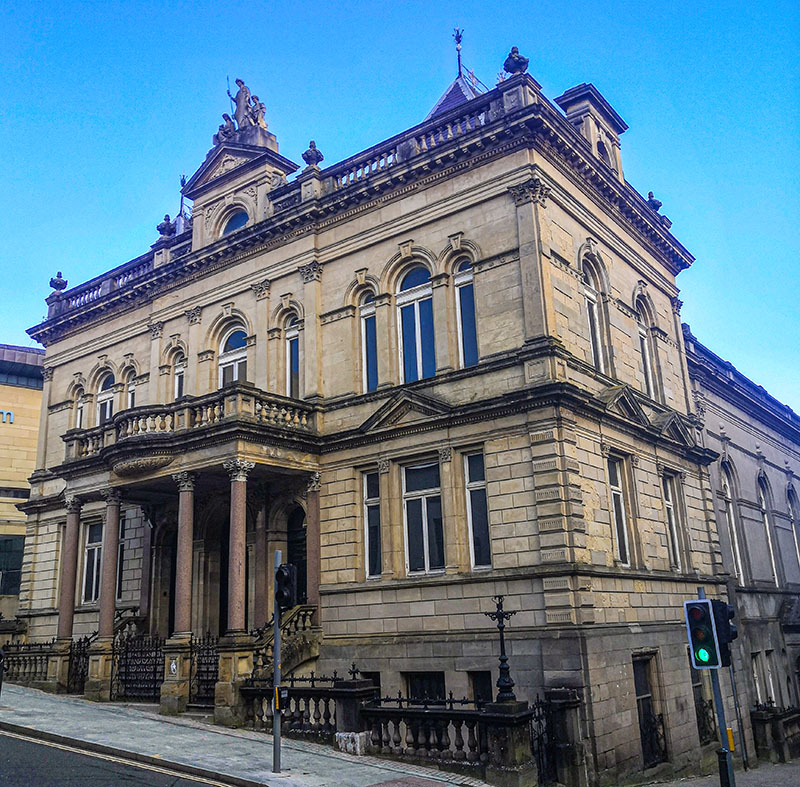 During the 19th century Derry went through a period of increasing prosperity and expansion mostly due to the large docks on the River Foyle. With this came a large increase in alcohol consumption that started to become a major problem, there was apparently 3 distilleries in the city and a pub for every 50 inhabitants in the city. The problem was not just in Derry but across Ireland and religious leaders started the Temperance Movement to help address the problem. The movement was slow to take off in Derry until local priest Fr. William Elliot was appointed spiritual director for Temperance Society in Derry.
Fr Elliot strongly felt that there should be an establishment that the Temperance Society and the Catholic population could call their own, that would offer educational and recreation facilities, which was likely influenced by the newly created Apprentice Boys Memorial. The funding to build this establishment was done via a weekly collection but by the time Fr. Elliot died at age 37 they were just under halfway to £6000 required. Six years later, in 1886, the Society was now known as St Columb's Hall Total Abstinence Society and Fr Elliot's successor laid the first foundation stone for St Columb's Hall.
The hall was designed by Croom & Toye, who were involved in the construction of many building in the city. It opened in 1888 and right from the start it became the site of many of the city's community activities such as dances, meetings lectures, band practice and retreats. The strong sense of community ownership that the hall had, got it its nickname "the People's Hall".
The hall has hosted many important events and performances over the years but in 2012 the Church that had built and managed the hall for 120 years, relinquished ownership leaving its future uncertain. The hall was taken over by a local business group as a philanthropic project and in 2019, a new charitable trust, the St Columb's Hall Trust began work on fully redeveloping this cultural gem for the benefit of the people of Derry and beyond. The hall is currently in the process of a renovation project and it already has some events scheduled, with hopes that it will once again become a major event venue for the city again.