St Columb's Cathedral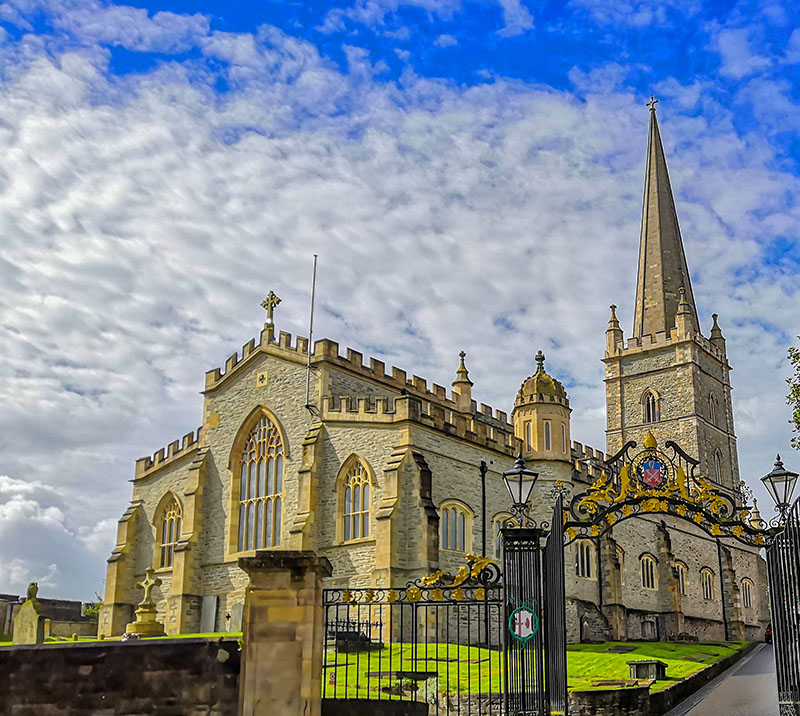 St Columb's Catherdral was built to replace the original parish church of Templemore, which was first damaged by an accidental explosion in 1568(it was being used to store gunpowder), then tore down by Sir Henry Docwra in 1600. It was built by William Parratt and was consecrated in 1633, It is the first Anglican cathedral built after the reformation and the first non-Catholic cathedral built in Western Europe.
Considering that it is almost 400 years old the cathedral has never really been changed much, it took till Frederick Hervey, 4th Earl of Bristol became bishop before there were any considerable alterations made. In 1776, he had the tower extended and a large spire built which didn't last and had to be removed, work didn't complete on the tower and spire until almost 50 years later, at the same time, the southern porch was removed and the turrets were remodelled into domes. The Interior was completely remodelled in 1861-1862 and in 1887 foundations for the chancel(area around the alter) were uncovered and it built to complete the churches original intended form. The Chapter House(Meeting Room) was built in 1910 and till this day the Cathedral still retains its original main building and tower.
Frederick Hervey
Frederick Hervey, the 4th Earl of Bristol, was an English aristocrat who achieved the almost impossible feat (for an English aristocrat) of being generally adored in Ireland during his lifetime and fondly remembered ever since. At a time when many of his class who ruled or owned property here were at best indifferent towards the Irish themselves, Frederick won hearts and minds through a rare combination of religious tolerance, generosity and a highly-developed sense of humour.
The Cathedral is currently the cathedral church for the Church of Ireland's Diocese of Derry & Raphoe and the parish church for Templemore. It is also one of the top tourist attractions for the city, it contains art work representing the Siege, a collection of documents dating back to the Siege and the original keys to the city. It's one of the must see sights for all visitors, it's quite hard to miss anyway, being the oldest and one of the tallest buildings still standing in the city it dominates the skyline of the city.