Royal Bastion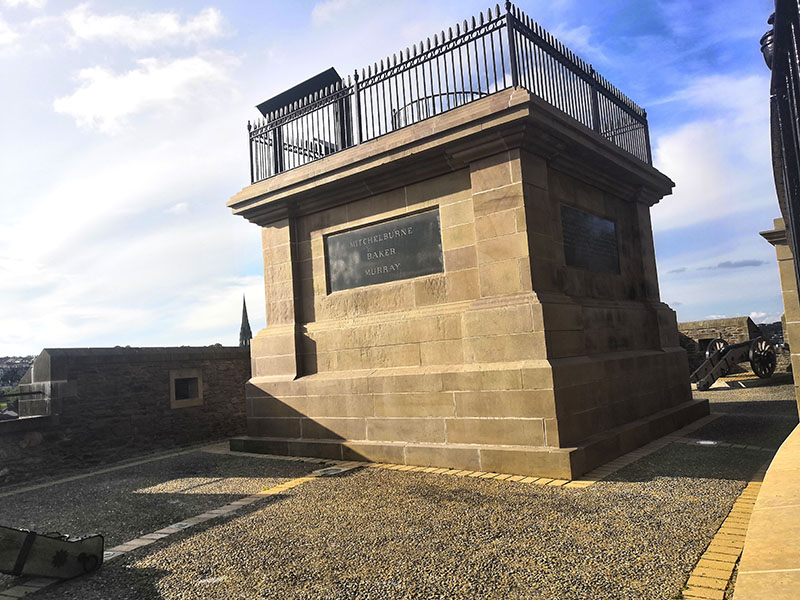 Royal Bastion was first known as Docwra's Bulwark, named after Sir Henry Docwra who was sent to reoccupy Derry by Queen Elizabeth I in 1600, it was named Royal bastion during the siege because the crimson flag was flown from it in defiance of the attackers. This would have been an important bastion during the siege as most of the attacking was directed at Butcher gate nearby.
A pillar was constructed here between 1826 and 1828 in honour of Reverend George Walker. It was a 90ft Doric column made off Portland stone and designed by James Henry. At the top was a 9ft statue of George walker that was carved by John Smyth from Dublin. Steps inside the pillar allowed people to climb to top and enjoy the views of the city but the pillar was destroyed in 1973 by an IRA bomb. The cannon on the bastion are more recent that most on the walls and date from the 19th century.
Part of
The Derry Walls

The Derry Walls are the most complete set of town walls in Ireland and the largest ancient monument in Northern Ireland. They were built by the Honourable the Irish Society between 1613 and 1619 to protect the new plantation city of Londonderry after the previous attempt to establish a settlement was destroyed. Like much of the old city fortifications across the world they now stand as a tourist attraction with many people coming to the city to walk along the walls.