Robert Sinclair Factory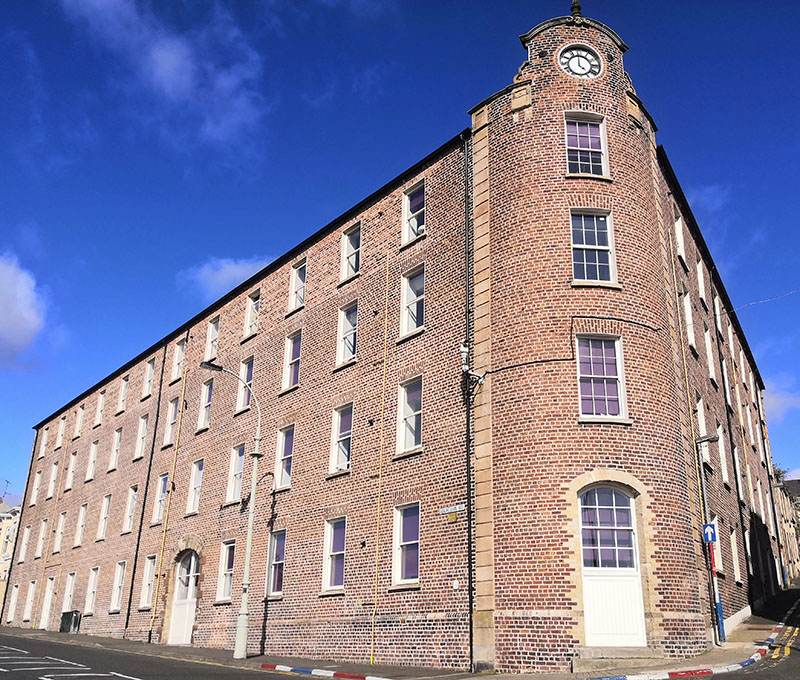 Robert Sinclair & co was a manufacturers from London that helped fund the building of Tillie & Henderson's factory. Sinclair decided to build his own factory in 1863 because of the success of Tillie & Henderson's, it was designed by A Mc Elwee, it is a large red brick building with an unusual configuration and a clock face that points directly at the Craigavon bridge. The factory went through a bit of a bad patch during the end 19th century and was purchased by Tillie & Henderson's in 1913 to expand their production.
During the Lumiere in 2013 the factory was the site of Hilary Sleiman and Lesley Bond's piece "Shirts" The piece was a series of ghostly shirts made from neon lighting, placed around the factory that was to pay homage to the building and the shirt industry that was once vital to the city. While researching the shirt industry in Derry, Lesley Bond discovered she had a connection with the shirt factories, which is probably true for almost everyone that has a connection to the city at all.
For a time the factory was used for commercial purposes, Fabric world that sold carpets, curtains and fabrics out of the building. The building over the years like the rest of factories became very run down and was in danger of collapsing like the nearby Hamilton shirt factory. The factory was renovated and converted into apartments in 2017 by the Martin Group, who also redeveloped the City Factory. In 2021 a plaque was placed outside the factory in honour of the women who worked hard in this shirt factory.
Factory Girls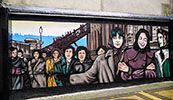 For almost a century the city's economy depended on shirt making and at its peak there was 44 shirt factories that employed more people than all other industries in the city combined. This mural in the Craft Village is dedicated to the workers in the shirt factories "the Factory Girls" and was painted by UV Arts.