Peace Bridge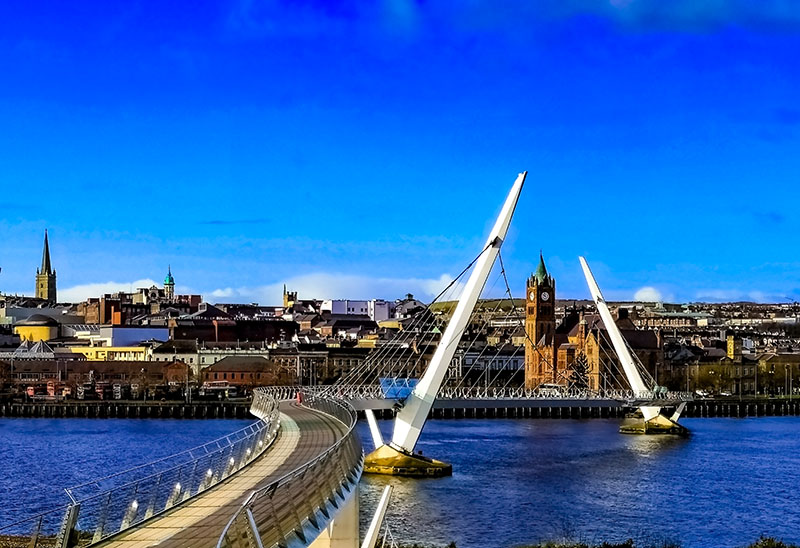 The Peace Bridge is a foot an cycle bridge over the River Foyle it is between the Craigavon Bridge to the south and the Foyle Bridge to the north. It runs from the Quay cycle and walkway next to the Guildhall on the city side to Ebrington Square on the Waterside. It is part of a Foot and Cycle network that runs on both sides of the Foyle and is popular with locals for getting their daily exercise.
It was opened on 25th June 2011 by EU Commissioner for Regional Policy, along with First & Deputy First Ministers Peter Robinson & Martin McGuiness and Irish Taoiseach Enda Kenny. It was funded by the Department for Social Development, the Department of the Environment, Community, Local Government & the SEUPB Peace III programme and cost £14 million.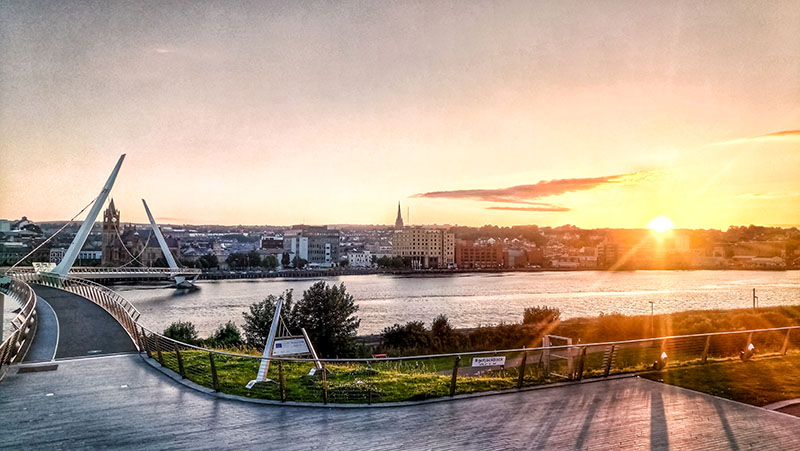 It was designed by AECOM and Wilkinson Eyre Architects and symbolises a coming together of the mainly Unionist Waterside and mainly Republican Cityside. It has now become a symbol of Derry with its design being used in local graphics including the logo for Visit Derry. It is also popular with tourists, a photo in front of the Peace Bridge is now standard for visitors to the city.
Foyle Bridge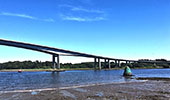 The Foyle Bridge was opened in 1984 to provide a second crossing on the Foyle in the city as the Craigavon Bridge alone was not enough for the growing amount of traffic in the city. Until the Rose Fitzgerald Kennedy Bridge was built in 2020, the Foyle Bridge was the longest bridge in Ireland at 866 metres with a longest span of 234 metres.
Craigavon Bridge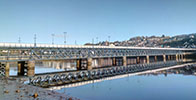 The Craigavon Bridge, named after Lord Craigavon the first Prime Minister of Northern Ireland, was opened in 1933 to replace the Carlisle Bridge that was almost exactly where the Craigavon bridge is now. It is one of only a few double deck road bridges in Europe, the lower deck was originally a railway bridge but was converted to a road bridge in 1968.
River Foyle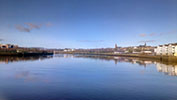 The River Foyle is the river that flows through Derry, it flows northeast from where the rivers Mourne and Finn join together at Strabane & Lifford and exits at Lough Foyle, which then exits into the North Atlantic. It is one of the fastest flowing rivers in Europe and there are 4 crossings 3 in Derry and one between Lifford and Strabane.