Northern Counties Hotel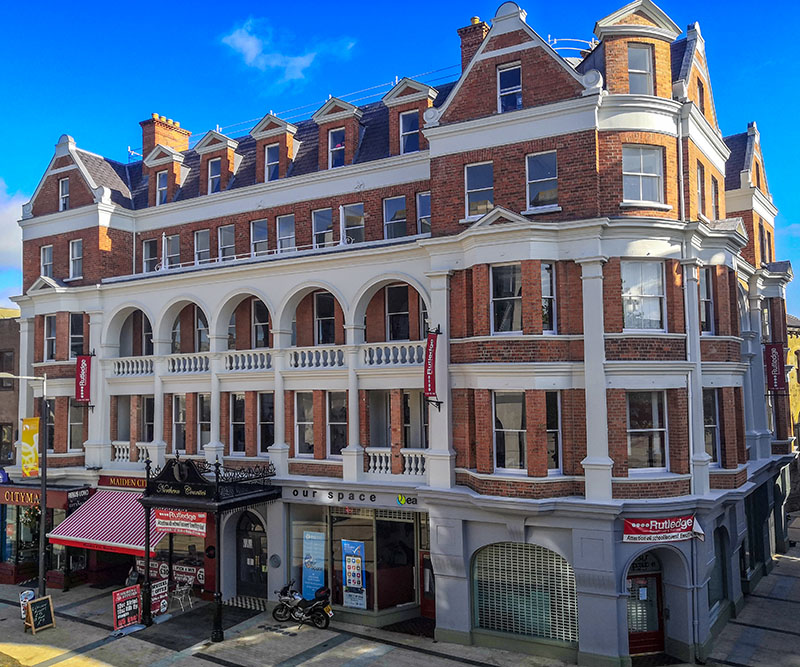 The Northern Counties Hotel was opened in 1902 for Mary Gibson originally from Scotland with a Victorian Arts and Craft Style, it was an upmarket hotel and in it its heyday it was a place for the elite of the city to gather. It was designed by Alfred Arthur Forman, an architect originally from Australia who travelled to several parts of the world designing buildings. The external of the hotel had a carriage porch which was a common feature in upscale buildings and a colonnaded façade. The internal was heavily ornamented and extravagant as expected from an upscale hotel in at the time.
It would have been one of the top choices for famous or high office visitors to the city and it also hosted dances and events for the elite of the city. It was in this hotel that Amelia Earhart took refuge from the crowds that had gathered in the area while she made her calls in the post office next door after her transatlantic flight. She then gave a press conference from the hotel detailing her flight across the Atlantic, A plaque on the wall of the honouring Amelia Earhart was placed by the Amelia Earhart Legacy Association in 2019.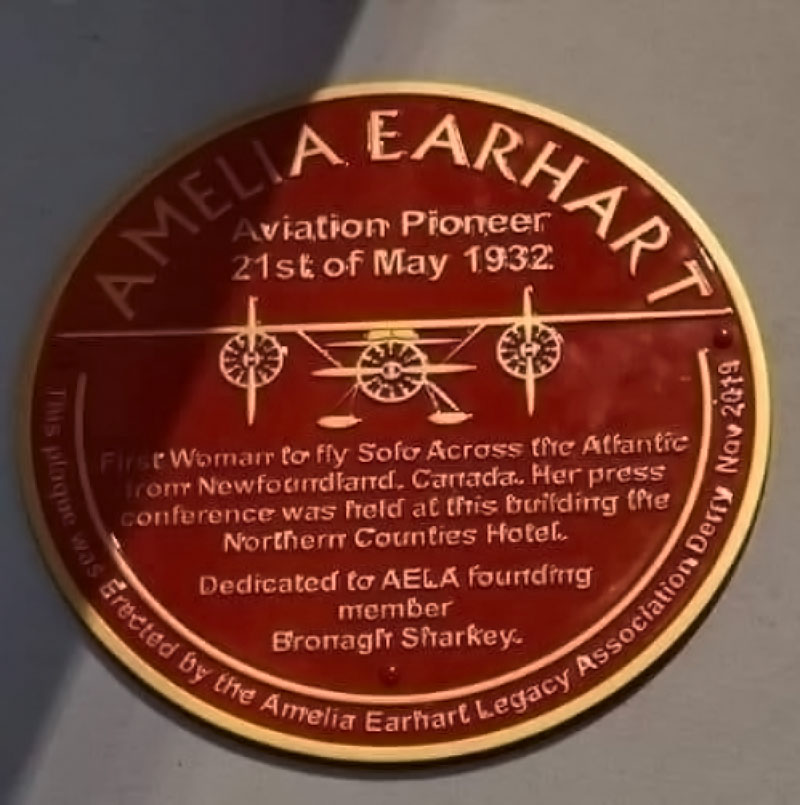 Amelia Earhart Legacy Association
Amelia Earhart

Amelia Earhart was an American aviation pioneer and author, most famous for being the first woman to fly solo across the Atlantic where she landed in a field outside Derry. She was also a best selling author that wrote books on her flying experiences, set other records and firsts, and was important for the founding of the 99s an organization for female pilots. She disappeared in 1937 when trying to circumnavigate the world by plane.
The lower floors of the hotel were used as retail units and the upper floors were used as a hotel till the 1960s when it closed. After it closed the upper floors were used as offices and the ground floor remained as retail and a restaurant. During the troubles the building was badly damaged by bombs much of the ornamental detail and the coach pouch were lost. The building was left badly damaged, infested with pigeons and the rear extension was crumbling.
In 2002, a major restoration project by The Walled City Partnership to restore many of the old buildings in the city centre was started. The Northern Counties Hotel was the most ambitious restoration done as part of this, the coach porch and exterior were restored to their original design, the historic rooms such as the dinning room were restored and a new glazed extension was built at the rear to help the building meet modern disability and fire safety standards. The building has now been fully restored to a state suitable for long term use, the ground floors are still retail space and the upper floors are offices.