New Gate Bastion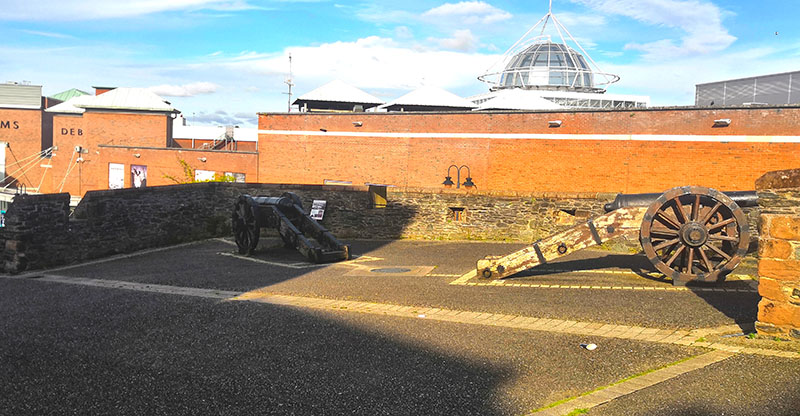 New Gate Bastion's original name was London Bastion, it was renamed during the siege to New Gate which was the former name for Ferryquay Gate the current New Gate wasn't built till along time after. The 2 Cannon are from 1642, their barrels are inscribed with the names of the London companies that commission them, the Grocers and the Mercers.
The street next to this bastion is orchard street until the 1830s there was an orchard on the outside of the walls here. It is believed that this is where Lundy escaped from the city during the siege by climbing down a pear tree that was growing against the walls in the orchard. Looking over the walls here and you will see the Derry girls mural and stone artwork depicting the quadrants of the walled city.
Part of
The Derry Walls

The Derry Walls are the most complete set of town walls in Ireland and the largest ancient monument in Northern Ireland. They were built by the Honourable the Irish Society between 1613 and 1619 to protect the new plantation city of Londonderry after the previous attempt to establish a settlement was destroyed. Like much of the old city fortifications across the world they now stand as a tourist attraction with many people coming to the city to walk along the walls.