Ness Country Park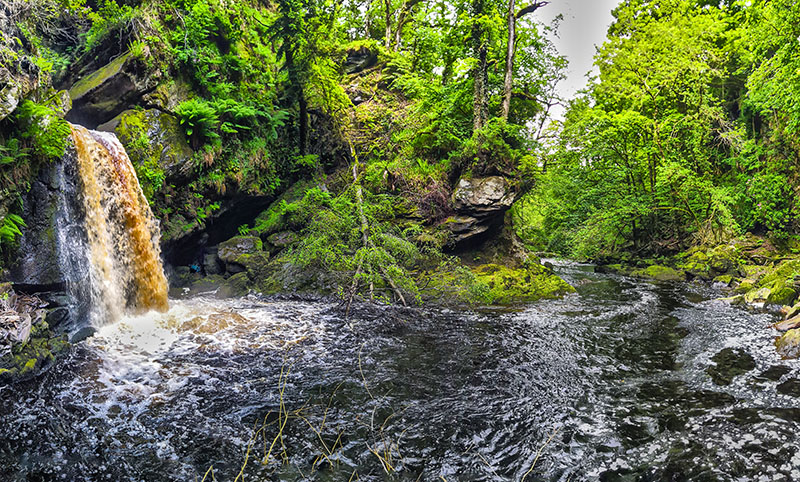 Ness Country Park is made up of 3 woodlands; Ness woods, Ervey Woods and Burntoilet Woods it contains 55 hectares of mixed woodland, and it is named after the Gaelic for waterfall 'an eas'. There are approximately 7km of walkways, that include pathed paths, dirt paths, bridges and steps, in places it can be quite steep but the lower sections are smooth and accessible for all. At the North end of the country park is one of the largest waterfalls in Northern Ireland, it is visible from the walkway at a bit of a distance, it is possible to get close to it but not very easily.
The waterfall is sometimes known as Shane's leap, this is because highway man Shane O'Mullan who was known as the area's Robin Hood, came through the woods while being chased by soldiers. The soldiers cornered him at side of the waterfall so he leaped across the waterfall breaking his leg but managed to get away from the soldiers. He was eventually caught in 1722 and hanged.
The park contains a visitor centre that features an exhibition on biodiversity of the woodland, there are picnic beaches around the park, there are toilets at the visitor centre and there are plenty of sign posts and maps to help you get around. Part of the pathway was destroy by floods in August 2017, for a while 2 sections of the part were separated but it was repaired as part of a redevelopment that completed in August 2019, during the redevelopment a lot of the paths were improved and a play park was added.
There are 3 carparks to access the woods, one is at the north end at the top of the hill, one is on the east side, on the west side at Every woods. Entering on the north entrance will leave you close to the waterfall and allows you to view it without having to climb the steps or hill. Entering from the east entrance will leave you right next to a visitor centre, wildflower meadows and a play park. The last entrance is on right between Ervey woods and Burntoilet woods that leads you on a riverside walk.
Ness Country Park is bit out of the way but it is one of the best places for a walk, so for those that enjoy walking in nature it is worth the trip. Some of the car parks and visitor centre are not open year round and all day so it's good to check the latest opening hours before arriving by car. If arriving by bike it is generally best to leave you bike at a car park and walk round the woods as cycling is not allowed on the path ways and you wouldn't want to anyway some of the hills are very steep.