Magazine Gate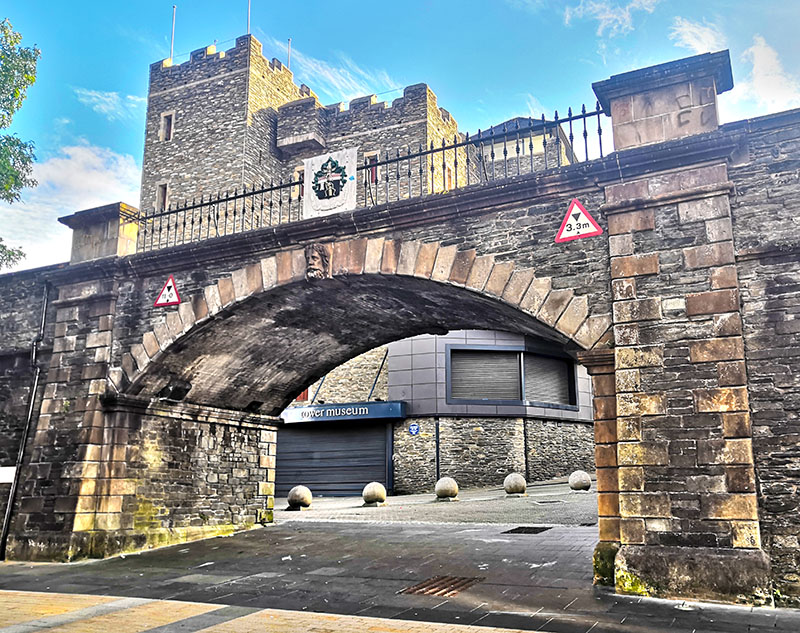 Magazine gate was added to the walls in 1888 to give better access to the river front which had moved away from the walls over the years, when the walls were built this corner of the walls was right on the river. The street it leads onto is known as Magazine Street and in the early years of the city it was used to store munitions. In the 19th century there were many store houses along the street and it was difficult to access them from horse and carriage from Shipquay gate so Magazine Gate was built to allow easier access.
Next to this gate on the inside is the Tower Museum that was built in 1986 to replicate the O'Doherty tower which was built in the area in the 16th century. On the outside of the walls are Waterloo Place and guildhall square along with several old buildings such as the Northern Counties hotel and the Northern Bank Building. This is one of 2 gates that you cannot drive through and is only accessible by foot.
Part of
The Derry Walls

The Derry Walls are the most complete set of town walls in Ireland and the largest ancient monument in Northern Ireland. They were built by the Honourable the Irish Society between 1613 and 1619 to protect the new plantation city of Londonderry after the previous attempt to establish a settlement was destroyed. Like much of the old city fortifications across the world they now stand as a tourist attraction with many people coming to the city to walk along the walls.