Hands Across the Divide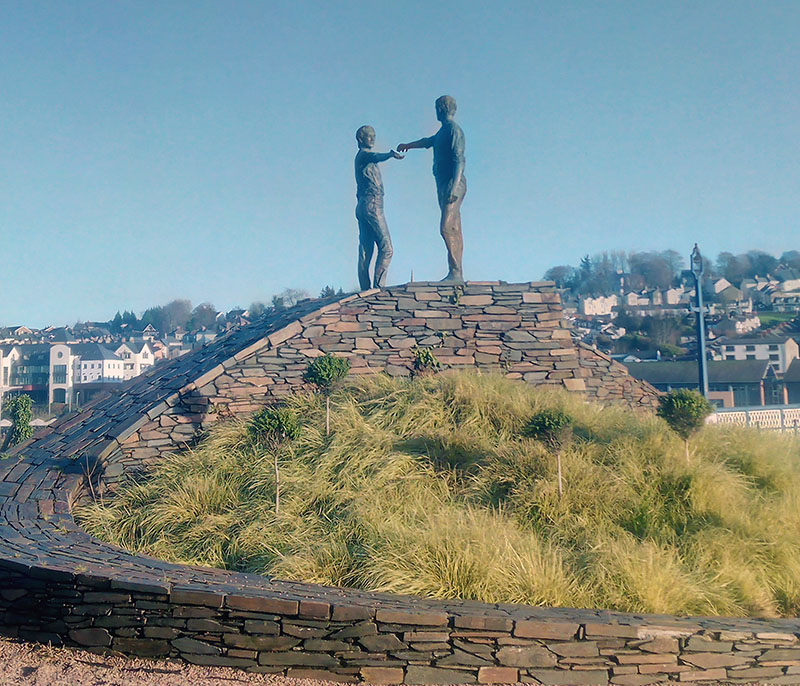 Hands Across the Divide was erected in 1992 and created by local sculptor Maurice Harron, Its on the Cityside at the end of the upper deck of the Craigavon bridge. It is 2 bronze statues one representing Republicans and one representing Loyalists. They are on separate bases with a gap between them, representing a divide, much like the River Foyle that divides the mainly Catholic Cityside and mainly Protestant Waterside of the city.
It was created during the early stages of the peace process, when Loyalists and Republicans came together to try and bring peace to Northern Ireland. The hands of the 2 figures reach across the divide to represent the desire of the 2 communities to come together in reconciliation but the fact that they aren't quite touching represents that there was still work to be done.
The Peace Bridge was modelled in the same fashion except it was built after peace had arrived, it represents a hand shake across the river to show that the hands finally met.
Peace Bridge

The Peace Bridge is a foot and cycle bridge across the River Foyle, it runs from the Quay walkway next to the Guildhall on the city side to Ebrington Square on the Waterside. It was designed by AECOM and Wilkinson Eyre Architects and symbolises a coming together of the mainly Unionist Waterside and mainly Republican Cityside.