Guildhall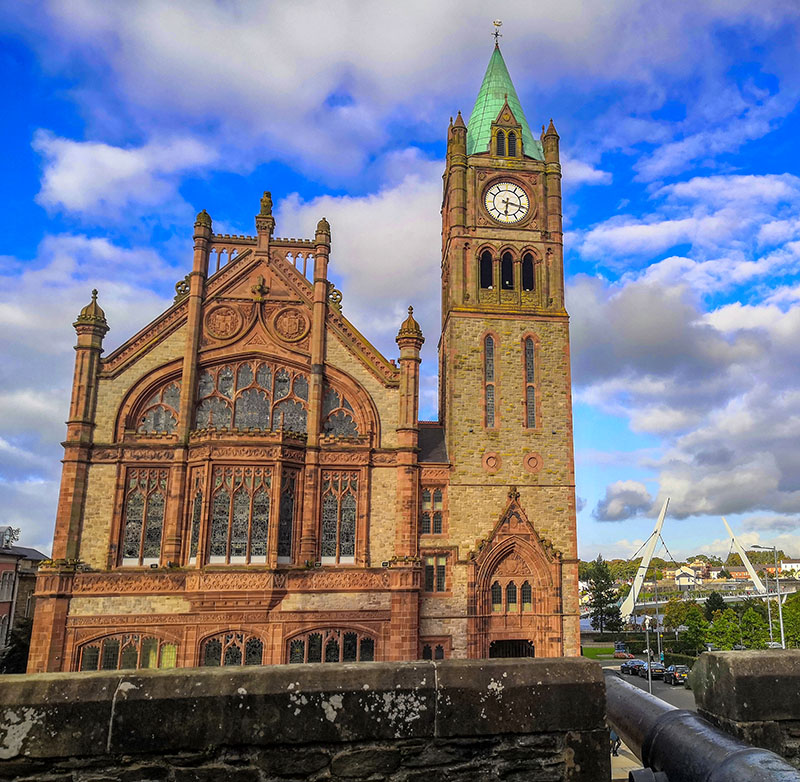 The Guildhall is a Grade A listed building where the members of Derry City and Strabane District Council meet. It's an auburn brick building right next to the walls & the River Foyle, its signature feature is the clock tower that was modelled after Big Ben in London. It contains a collection of stained glass windows donated by London Companies that represent a celebration of the achievements of the London Companies as well as snapshot of British and Irish history.
For most of the city's life the town hall was always located in the Diamond, but it was moved in 1887 to the newly built Guildhall. It was built by The Honourable The Irish Society on land that was once part of the River Foyle at a cost of £19,000, designed by John Guy Ferguson and was named in honour of the connection to London and its guilds. It became the administrative centre for Londonderry Corporation in 1890 and still remains in civic use.
It was almost destroyed twice in its history first by fire in 1908, which left only the rear block and the tower. It was rebuilt with a design from Mathew Alexander Robinson in 1912 with more funding from The Honourable The Irish Society and had its 3132 pipe organ designed by Sir Walter Parratt installed. During the troubles the building was the target of multiple terror attacks and was almost destroyed a second time by 2 bombs in 1972. The bombs destroyed the interior and windows but fortunately watercolour drawings of the originals had been preserved and were used to restore the windows.
In August 2010 a 3 year restoration programme started which included restoring the stonework, roof, windows, stained glass and the clock. Accessibility was improved throughout the building including; new steps and a ramp which made the Guildhall into a key tourist attraction for the city.
The Guildhall and the adjacent Guildhall square has been the site of many important events of the city; it is where U.S. president Bill Clinton gave his addresses when he visited in November 1995; It was the home of the Saville Inquiry into the events of Bloody Sunday from 1998 to 2005 and is part of the city's biggest events including; the City of Derry Jazz Festival, Halloween celebrations, Spring Carnival and the Walled City Market.
On top of being the meeting place for the local council the Guildhall currently hosts, interactive tourist information points, the Plantation of Ulster exhibition, the Mayor's Parlour, a Café and a variety of events, conferences, civil ceremonies and even weddings. A guided tour of the Guildhall is highly recommended for visitors to the city.