Grianan of Aileach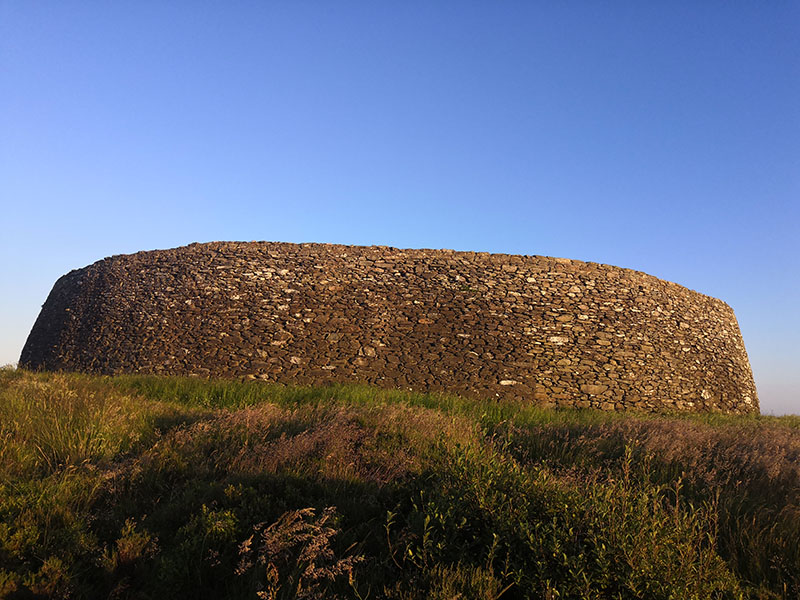 The Grianan of Aileach (Irish: Grianán Ailigh, sometimes anglicised as Greenan Ely or Greenan Fort) is a hillfort atop the 244 metres (801 ft) high Greenan Mountain at Inishowen in County Donegal, Ireland. The main structure is a stone ringfort, thought to have been built by the Northern Uí Néill, in the sixth or seventh century CE; although there is evidence that the site had been in use before the fort was built. It has been identified as the seat of the Kingdom of Ailech and one of the royal sites of Gaelic Ireland. The wall is about 4.5 metres (15 ft) thick and 5 metres (16 ft) high. Inside it has three terraces, which are linked by steps, and two long passages within it. Originally, there would have been buildings inside the ringfort. Just outside it are the remains of a well and a tumulus.
By the 12th century, the Kingdom of Ailech had become embattled and lost a fair amount of territory to the invading Normans. According to Irish literature, the ringfort was mostly destroyed by Muirchertach Ua Briain, King of Munster, in 1101. Substantial restoration work was carried out in 1870. Today, the site is an Irish National Monument and a tourist attraction.
The Grianán is located on the western edge of a small group of hills that lie between the upper reaches of Lough Swilly and Lough Foyle. Although the hill is comparatively not that high, the summit dominates the neighbouring counties of Londonderry, Donegal and Tyrone. Located at the edge of the Inishowen peninsula, it is 11.25 kilometres (7 mi) northwest of the ecclesiastical site of Derry. The histories of the sites are closely linked. There is much legend and historical material related to the Grianán of Aileach. The Irish annals record its destruction in 1101. The main monument on the hill is a stone cashel, restored in the nineteenth century, but probably built in the eighth century CE. The summit's use as an area of settlement may go back much further. A tumulus at the Grianán may date back to the Neolithic age. A covered well was found near the cashel in the early nineteenth century.