Free Derry Corner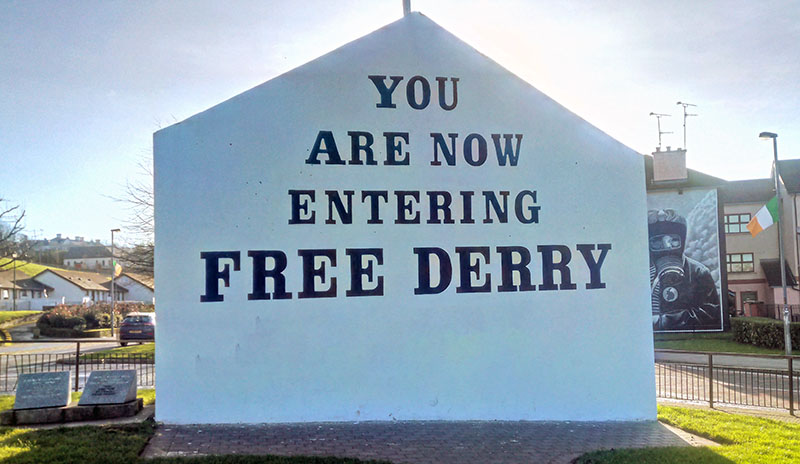 The Civil rights movement in Derry from 1968 to 1972 was known as "Free Derry", as part of this movement the residents of the Bogside declared the area as an autonomous nationalist area. In January 1969, graffiti was painted on the wall at the end of a row of terrace houses stating "You are now entering Free Derry" to represent this declaration. When the British Home Secretary, Jim Callaghan, came to Derry in August it was professionally repainted with a white background and black lettering, which was retained in its current design.
The houses were demolished shortly after but the wall was retained as a free standing gable wall, currently between the 2 carriageways of the Lecky road, in the middle of the Bogside. It is now known as the Free Derry Corner, it is a monument to the civil rights era and is frequently repainted with different colours or variations of the slogan to mark events. It is a major part of many tours of the city and it is popular with visitors who often have their photo taken in front of it.
Bogside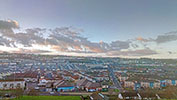 The Bogside is a Catholic/Republican residential area just outside the walls, it was the site of several significant events of the troubles, Including The battle of the Bogside that started the troubles and Bloody Sunday. When the walled city was founded the area was a marshland that was only passible on foot in a few places, over the years that dried up and was a key area of expansion for the city when it outgrew the walls.
Museum of Free Derry

The Museum of Free Derry is a museum in the Bogside area of the city that focuses on the civil rights movement in Derry 1968-1972. It doesn't just cover local events it also covers civil rights movements a massacres in other parts of the world, so that people can make comparisons.
Bogside Murals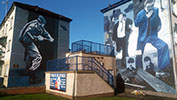 The Bogside Murals are a set of 12 large scale murals in the Bogside area, they were painted and maintained by the Bogside Artists®, a group of 3 artists Tom and William Kelly, and Kevin Hasson. The murals represent the people of the Bogside and their history of seeking justice and democratic rights.