Frederick Hervey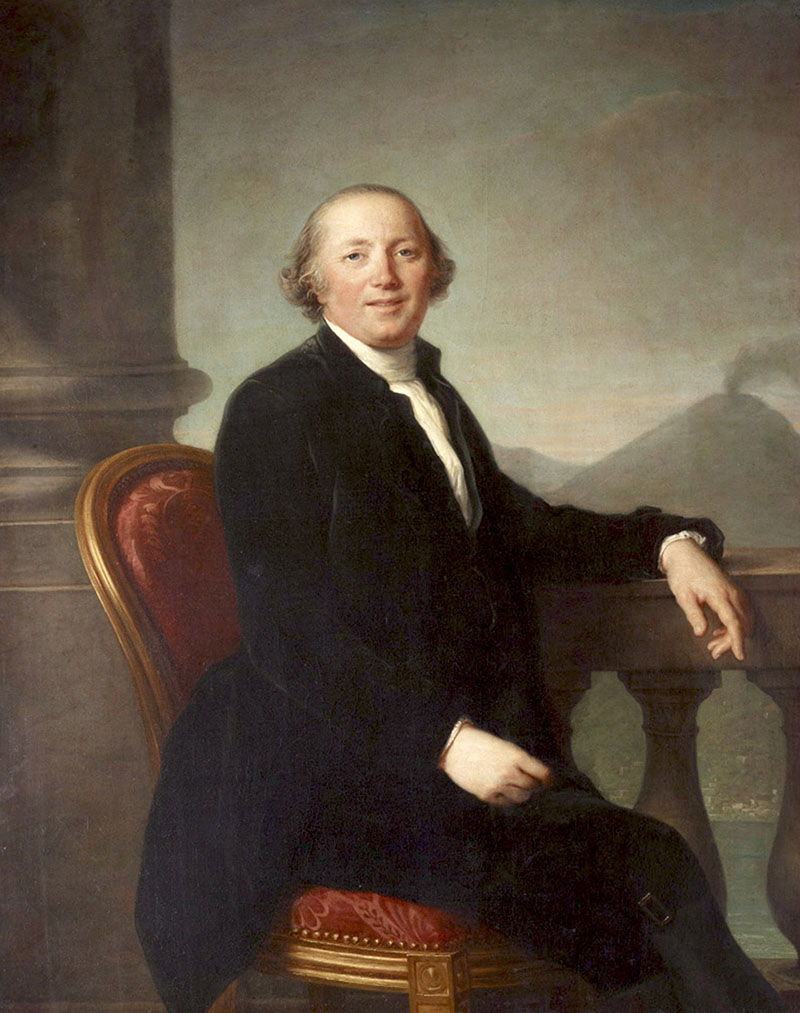 Frederick Hervey, the 4th Earl of Bristol, was an English aristocrat who achieved the almost impossible feat (for an English aristocrat) of being generally adored in Ireland during his lifetime and fondly remembered ever since. At a time when many of his class who ruled or owned property here were at best indifferent towards the Irish themselves, Frederick won hearts and minds through a rare combination of religious tolerance, generosity and a highly-developed sense of humour.
What other Bishop would force his clergymen to run races along the beach, sprinkle flour along his palace corridors at night to reveal who was sleeping with who, or drink a bottle of rum and 'swear like a gentleman?' Whatever about our conflicts over politics and religion, above all things we Irish enjoy 'a character,' which is why stories about 'The Earl Bishop' are still told here two centuries after his death.
Frederick was born near Bury St Edmunds, in the south-east of England, in 1730. Through sheer good luck, in his thirties he was made the Church of Ireland Bishop of Derry, then in his forties, inherited his grandfather`s title and estates (hence, The Earl Bishop). This was like winning the lottery twice; both positions brought huge incomes, which Frederick spent on fine art and even finer mansions, but also on his flock, irrespective of religion. In an age where religious discrimination was enshrined in Ireland`s legal framework, this was a highly unusual approach for an establishment bishop to take. Nowadays we would approve, and call it ecumenism, but during his lifetime, Frederick was pilloried by his peers for championing the cause of equality (no less a figure than King George III himself called Frederick 'that wicked prelate').
When Frederick Hervey arrived in Derry in 1768, it was a city of some 9,000 souls that had only recently begun to expand beyond its historic walls. Today, it is the fourth-largest city in Ireland with over 90,000 inhabitants in the wider urban area. To the outsider, the city`s variety of names can be confusing. The original early Christian settlement was referred to in Irish as 'Daire' or 'Doire,' which means 'oak grove,' because sure enough, oak is a native tree. Like so many Irish place names, this was phonetically anglicised, to 'Derry.' The 'London' prefix comes from the early 17th century, when what was by then a small garrison and its hinterland were developed by the then-wealthy London guilds, as part of the Plantation of Ulster. This was a planned colonisation of Ireland by settlers from England and Scotland.
The Honourable The Irish Society, which represented the London guilds, built the city`s walls during 1613-19, to defend the settlers. The walls withstood a siege during 1688-89, hence 'The Maiden City.' As a sign of how Ireland`s past can still dominate its present, the 'London' prefix is more contentious; people who consider themselves Irish rather than British do not use it, whereas those who consider themselves British do. As the Establishment Bishop for the city and county, Frederick called himself 'Derry,' since the Church of Ireland has always referred to the diocese thus, and still does. However, Frederick also believed that religious divisions were pointless and ultimately dangerous. This was a highly unusual attitude at a time when Catholics and Presbyterians were still subject to official discrimination under the so-called Penal Laws.
Today, Frederick is most fondly remembered for his tolerance. He was generous to his own clergymen but also extended his finances and friendship to other faiths – for example, he contributed to the building of The Long Tower, Derry`s first Catholic church. As the Church of Ireland Bishop, he was the most powerful individual in the city and county, and his generosity won hearts and minds amongst a population that was more accustomed to being at best ignored and worst persecuted and impoverished by the British establishment.
Frederick was crowned Bishop in Saint Columb`s Cathedral and when he was not travelling abroad, he preached there on Sundays. He lived in the Bishop`s Palace which still stands on Bishop Street, and he built a pleasure-house, or casino, a copy of which can be seen on Bishop Street beyond the walls. You can explore Frederick`s city by following the links below.
The Bishop`s Palace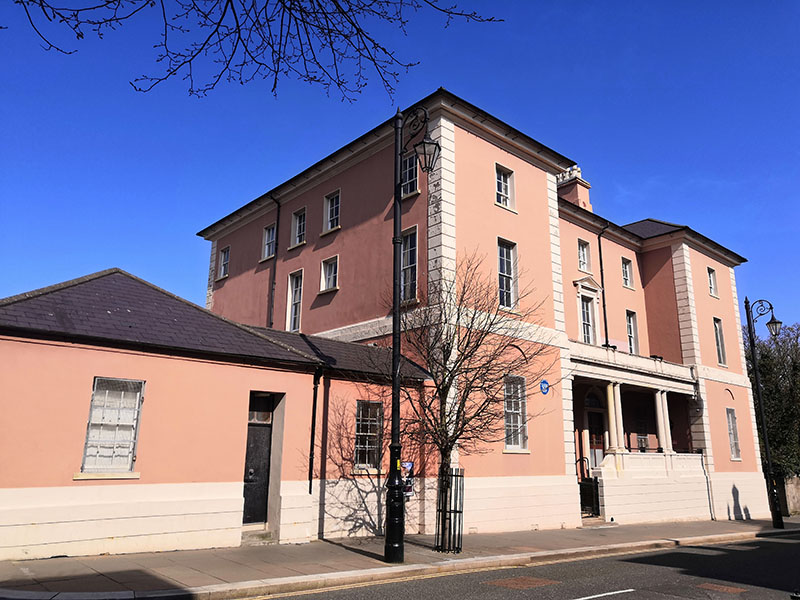 Close to the cathedral on Bishop Street, this could probably be described as Frederick`s 'other' palace, as Downhill is also sometimes called The Bishop`s Palace. This building was actually erected by Frederick`s predecessor in 1753, but Frederick did remodel parts of it to suit his own taste. He lived happily here with his family when not travelling abroad – and before his family became extremely unhappy about the amount of money he spent on travel, art and architecture, but not on them!
On the 30th of November, 1790, Frederick addressed a huge crowd in front of the palace, that had assembled to welcome him home after one of his journeys. He was genuinely adored by the populace, not just for his tolerance but probably also at this point in time because he had provided the bulk of the funding for Derry`s first bridge across the River Foyle, which was now in the process of being built. Because the only way across the river until then was by boat, Frederick`s bridge probably had the same impact as the more recent Peace Bridge when it came to opening up the city for the benefit of one and all.
The rear and sides of the palace were once occupied by a beautiful garden and small orchard – now unfortunately a car park. However, the building itself has fared better than many other Georgian buildings in Derry because it was acquired in 1945 by the Masonic Order, who have taken great care of it ever since. Parts of the interior are still original and can be viewed by arrangement with the Order.
St Columb's Cathedral

St Columb's Cathedral is the first post Reformation Cathedral in the UK, it was built in 1633 by William Parratt for The Honourable The Irish Society, the current tower and main building are still that of the original. It was named after St Columba, a Christian monk that established a settlement in Derry during the 6th century.