Foyle Port Marina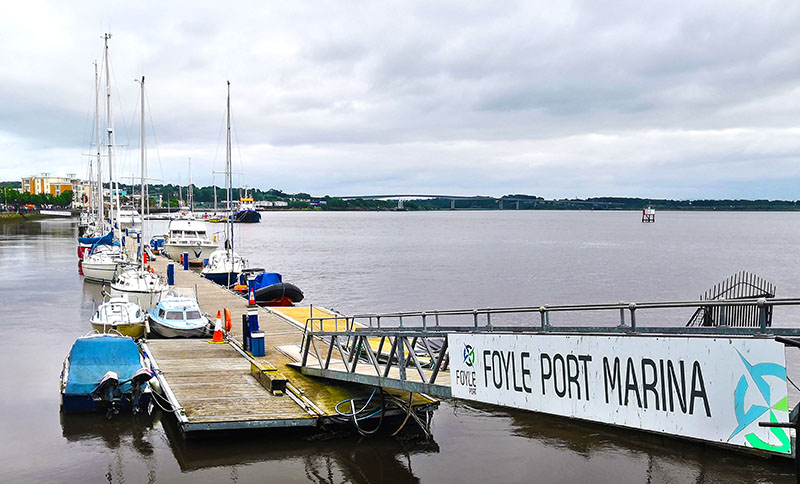 The Foyle Port Marina contains 2 pontoons a 200 metre wooden structure and a 140 metre concrete structure, that provide facilities for a wide range of vessels up to 1000 tons. In the 19th century you would have seen ships docked along the entire quayside from the Craigavon Bridge to about half a mile north of the current wooden pontoon at this location. The main commercial port is now based outside the city at Lisahally but leisure vessels can dock at the city centre pontoon here. It is within easy walking distance of the city centre as well as bars, restaurants, a cinema, hotels, shopping centres and a range of tourist attractions.
The Marina is where the round the world Clipper yacht race docks when it stops in the city, it first stopped during the 2011-2012 race and stopped 4 times in a row till the 2017 -2018 race. It was due to stop a 5th time in 2020 but the race was cancelled and it is due to return to Derry in 2022. The city is known by the supporters and Race Crews for putting on a party to remember and is one of the most anticipated stops. A yacht from Northern Ireland named Derry~Londonderry~Doire is part of the race and finished 2nd in the 2015-16 race only 4 points behind the winner.
Each time the Clipper race stops in Derry, the city puts on the Foyle Maritime Festival which packs the waterfront with a dense line-up of entertainment, food stalls line the quayside, tours of the Clipper yachts are available and water activities take over the Foyle. As high as 211,000 visitors attend the Maritime Festival, it brings high numbers of international visitors to the city and huge economic benefits to the area. The Maritime festival is due to return along side the clipper festival in 2022 and is set to the biggest one yet.