Foyle Arena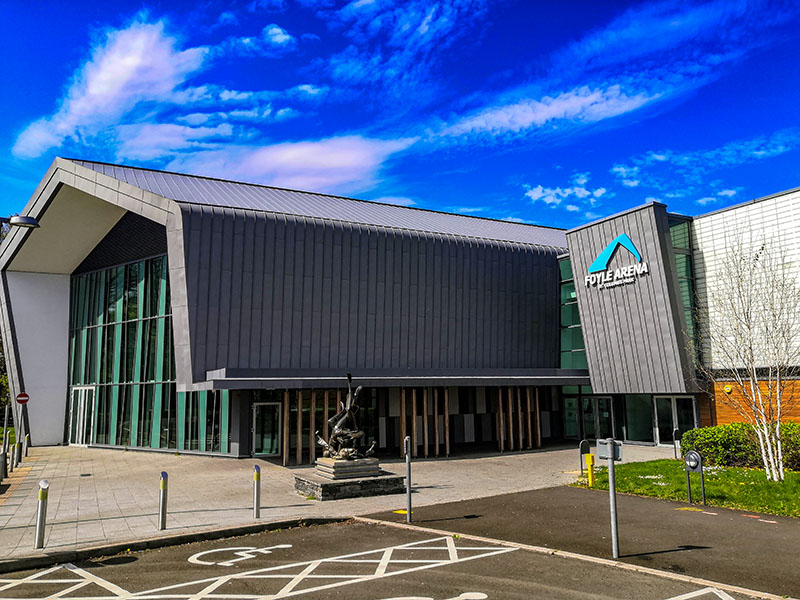 The Foyle Arena is the largest and most up to date leisure activities facility in the city, it opened in 2015 and cost £12 million to build. It was built to replace the aging St Columb's Park and Lisnagelvin leisure centres. The arena is used to host major sports and cultural events and is a centre of excellence for Judo, Wrestling and Indoor Climbing.
The main sports hall that hosts many of the sports and cultural events has a capacity for 2,000 spectators which makes it the largest indoor venue in the city. There is a 25m competition grade swimming pool and a separate pool for children with play facilities. Outside, behind the Arena is a floodlit 3G synthetic five-a-side pitch and a larger grass pitch.
The fitness suite contains first class facilities, it has a dedicated strength and conditioning room and a range of fitness classes are available. The climbing wall at the Foyle Area is the 15 meters at its highest point which makes it the highest dedicated climbing wall in Ireland, it has a total climbing surface of 900 square meters and 39 climbing lines. It can be used unsupervised by competent climbers or climbing courses are available to beginners.
The Arena is very accessible, it is right at the entrance to St Columb's Park with a large car park right in front of it. If walking or cycling it is around a 1 mile trip from the city centre, it is a very pleasant off road trip that crosses the peace bridge and goes through St Columb's Park. The climbing wall makes for a great group activity for families with older children or groups visiting the city.
St Columb's Park

St Columb's Park is a 70 acre park in the Waterside area, it contains the remain of St Brecan's a medieval church, the historic St Columb's Park House, the Foyle Area and leisure facilities. A greenway running through the park links it with much of the city, which goes just past the Foyle Bridge in the north and Craigavon bridge in the south.