Fountain Murals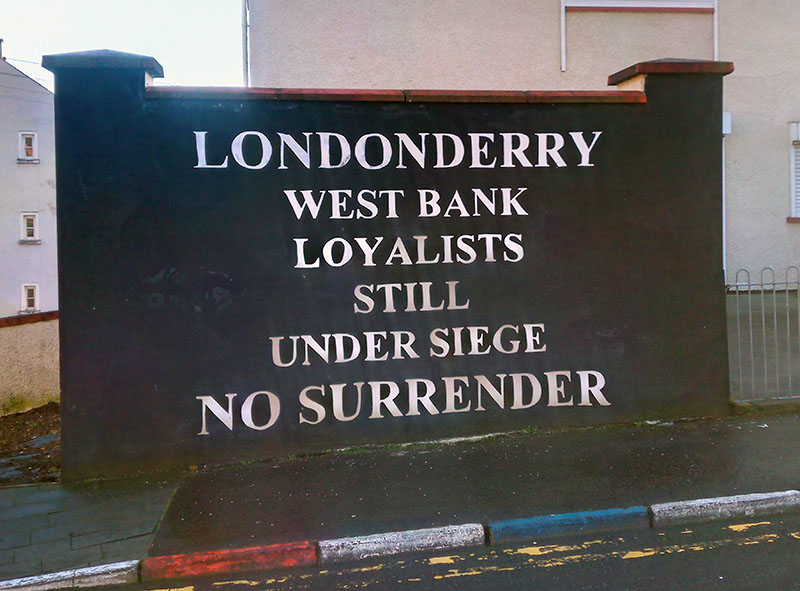 The murals painted on the walls around the Fountain represent Loyalist culture, around the Fountain you will find many Loyalist symbols and areas painted in a Union Jack or in red white and blue. A large mural painted by UV Arts for the New Gate Arts & Culture Centre shows a collage of Ulster Scots culture. There is a Mural showing people of the Orange Order from around the world and memorials to the people that died in the World Wars.
The black wall with white writing at this location that says "Londonderry West Bank Loyalists still Under Siege No Surrender" is firstly a reference to the exodus of Loyalists from the Cityside. The city that was historically mostly protestant became mostly Catholic and the residents of the Fountain felt under Siege during the Troubles due to being the last mostly Protestant area still remaining on the Cityside. The "No Surrender" part is what was shouted from the city walls by the residents of the city when James II approached the city just before the siege and requested that the city surrender.
Perhaps the most interesting is the Jackson Murals: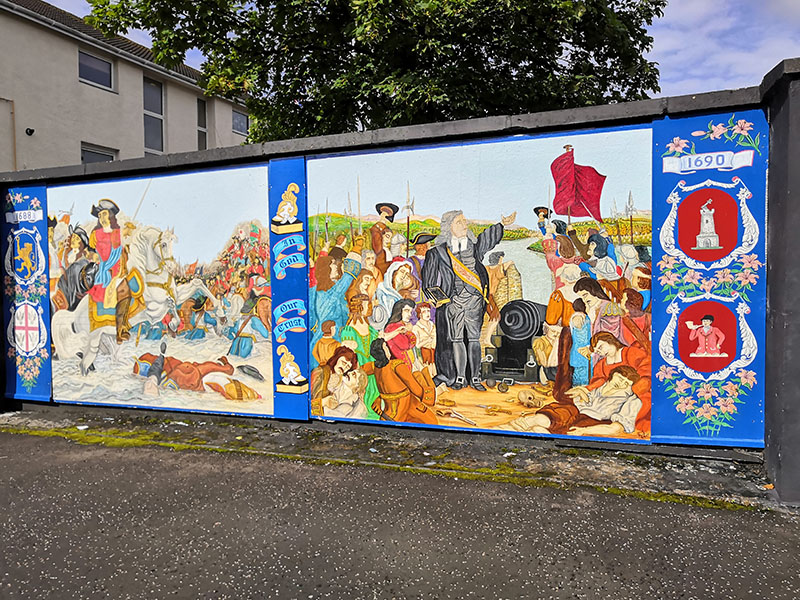 These colourful murals depict 2 scenes from the Williamite campaign in Ireland from 1688 to 1690, the left panel shows William III of Orange crossing the Boyne and the right panel shows the relief of Londonderry. There have been multiple versions of this mural painted by 2 generations of painters called Bobby Jackson. It was first painted by Bobby Jackson Sr, then by his son Bobby Jackson Jr who died in 2016. In order to preserve the boards they aren't out year round they are placed on the memorial wall every year during marching season(Summer).
The mural was originally painted in the 1920s in a cul-de-sac at the end of Clarence Place. In the 1970s the area was redeveloped and the wall it was painted on was demolished, at the insistence of the residents it was relocated to a new location. It was again threated in the 1990s when the flats that it was near were demolished and the wall was also in poor condition, it was replaced by a new memorial wall and the mural was repainted.