First Derry Presbyterian Church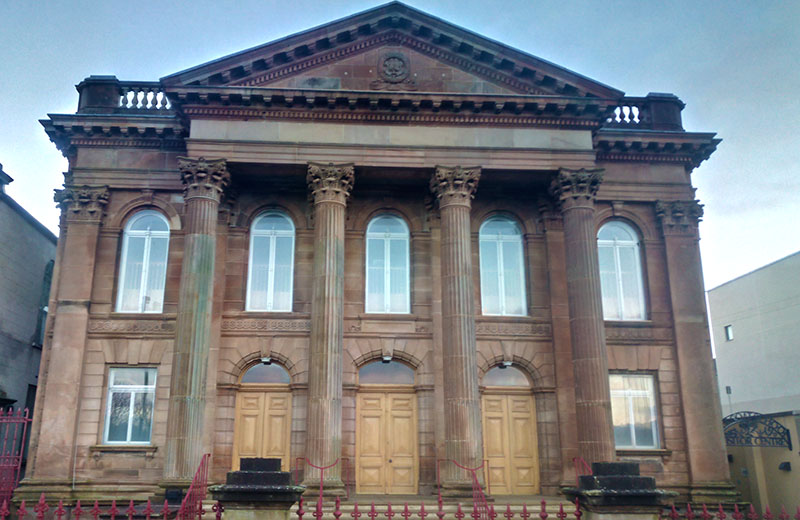 The First Derry Presbyterian Church was originally built in 1690 following the Siege when Queen Mary donated a large sum of money in recognition of the Presbyterian contribution during the Siege. By 1780 the existing building was too small so a new building was constructed in its place, the foundation stone that was inscribed with Roman numerals M.D.C.X.C(1690) was preserved and included in the new building.
The Church had a new vestibule, pediment and cornices made of Dungiven Sandstone added in 1820 and its 4 fluted columns with Corinthian Capitals and the Portico were added in 1892. During the 2000s the church was closed for renovations for 8 years largely due to a severe outbreak of dry rot. It was fully refurbished but its 18th character was retained, it reopened in 2011 and continues to be used to hold Sunday Service and Sunday School.
Adjoining the Church is the Blue Coats School that was first opened in 1773 that provided schooling for 14 boys. As part of the refurbishment this school was restored and turned into the Blue Coat School Visitor Centre that is open to the public to tell the story of the Presbyterians of Northern Ireland. The centre tells the story of the First Derry Presbyterian Church, the emigration of Presbyterians to American and their influence on the foundation of the United States; the arrival of Presbyterians in the Ireland and the history of Presbyterians in the City including their role in the Siege.
Reverend David Latimer that was the minister here reached out to former IRA leader Martin McGuiness and established a friendship, despite multiple attacks on the church by republicans. The reopening of the church too was attended by a range of people from different communities including Martin McGuiness(Sinn Féin), William Hay (DUP), the Church of Ireland Bishop and the Catholic Bishop. At the Reopening Reverend David Latimer Said "It's not going to be just a place for sacred worship it's going to be a shared space,"