Ferryquay Gate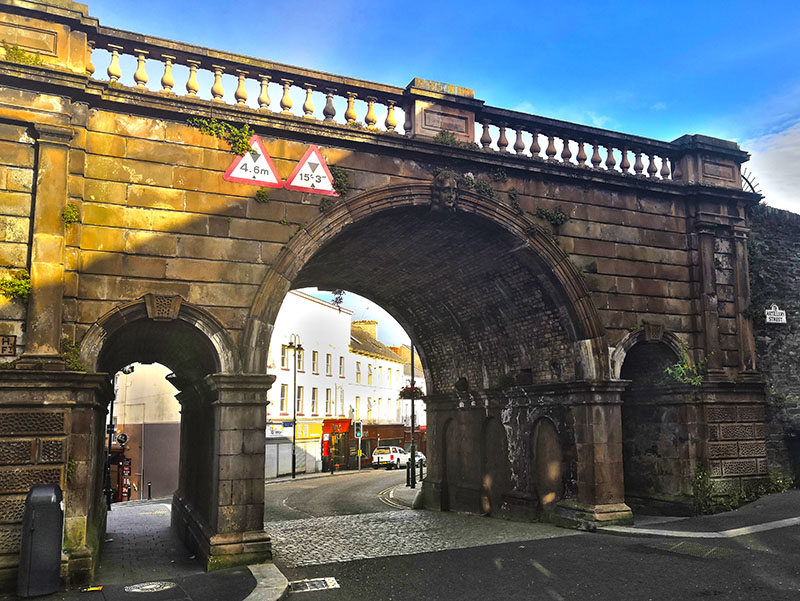 Ferryquay gate was one of the original 4 gateways, it was used to access the ferry that crossed the Foyle. It originally had twin battlement towers and a draw bridge, it was also the where the 2nd jail of the city was based. It was this gate that the Earl of Antrim approached that was then locked by the apprentice boys in 1688. The gate was remodelled in 1865, it is decorated with 2 models heads on the inside is Reverend James Gordon, a Presbyterian leader during the siege and on the outside is Reverend George Walker, Joint Governor of the city during the siege.
There was also access to the first wooden bridge built across the Foyle from this gate, it was located at the bottom of bridge street that runs to the left from this gate. The bridge was replaced with the steal Carlisle bridge at the site of the Craigavon Bridge at the bottom of the Carlisle road where this gate now leads to. The area around the gate is now mainly a shopping area with the 2 largest shopping centres in the city at either side.
Part of
The Derry Walls

The Derry Walls are the most complete set of town walls in Ireland and the largest ancient monument in Northern Ireland. They were built by the Honourable the Irish Society between 1613 and 1619 to protect the new plantation city of Londonderry after the previous attempt to establish a settlement was destroyed. Like much of the old city fortifications across the world they now stand as a tourist attraction with many people coming to the city to walk along the walls.