Edward Daly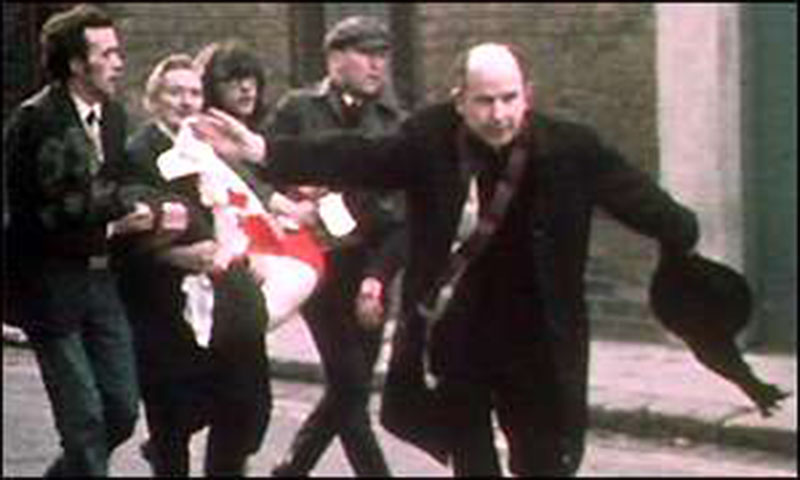 Edward Kevin Daly, D.D. (5 December 1933 – 8 August 2016) was an Irish Roman Catholic priest and author. He served as the Bishop of Derry from 1974 to 1993. Daly took part in several civil rights marches and events during the Troubles. He came to wider attention during Bloody Sunday in January 1972, waving a blood-stained white handkerchief as he escorted a group carrying a mortally wounded boy after British troops opened fire on demonstrators.
Daly was born in Ballyshannon, County Donegal, but raised in Belleek, County Fermanagh in Northern Ireland. His parents were Tom Daly and Susan Daly (née Flood), who were shopkeepers; he was the eldest of six siblings, including Tom Daly junior, who became a prominent politician. Daly attended and boarded at St Columb's College in Derry on a scholarship, after which he spent six years studying towards ordination to the priesthood at the Irish College in Rome. He was ordained a priest of the Diocese of Derry in Belleek on 16 March 1957. His first appointment was as a Curate in Castlederg, County Tyrone. In 1962, he was appointed a Curate in St Eugene's Cathedral in Derry, with responsibility for the Bogside area of the city. He left briefly in the 1970s to serve as a religious advisor to RTÉ in Dublin in the Republic of Ireland but spent the majority of his career in Derry.
During his time in Derry, he took part in the civil rights marches; he had first-hand experience of the Battle of the Bogside in 1969, the early years of the Troubles, internment, and the events of Bloody Sunday, in which British soldiers fired on unarmed protesters on 30 January 1972, killing 14 people. Daly became a public figure after he was witnessed using a blood-stained handkerchief as a white flag in an attempt to escort 17-year-old Jackie Duddy, a wounded protester, to safety. Duddy died of his injuries soon after and Daly administered the last rites; he later described the events as "a young fella who was posing no threat to anybody being shot dead unjustifiably". Duddy's family gave Daly a photograph of Jackie, which Daly always kept on his desk. He also gave an interview for the BBC in which he insisted, contrary to official reports, that the protesters were unarmed. He testified as such to the Widgery Tribunal, though he also testified that he had seen a man with a gun on the day, to the anger of some of those involved; the Widgery Report largely exonerated the British Army, perpetuating the controversy. Years later, Daly opined that the events of Bloody Sunday were a significant catalyst to the violence in Northern Ireland, and that the shootings served to greatly increase recruitment to the IRA.
The controversy over Bloody Sunday lasted for decades; Daly believed the shootings provided a catalyst for the IRA's increase in violence through the 1970s and beyond. Daly's actions were captured on camera by the news media and broadcast around the world, which gave him a greatly increased profile. Prior to Bloody Sunday, Daly was sympathetic to the "old" IRA, of which his father was a member, but the events of Bloody Sunday left him of the opinion that "violence is completely unacceptable as a means to a political end", which led to a tension with the Provisional Irish Republican Army throughout his career.
In 1973, Daly worked with RTÉ in Dublin as a religious adviser for several months. He appeared on numerous television programmes and contributed to many television documentaries on religious and Northern Ireland affairs. He was appointed Bishop of Derry in 1974—at 40, he was the youngest bishop in Ireland. His tenure was marked by conflict with the IRA over that organisation's use of violence to advance its political cause of a united Ireland; Daly and IRA spokesmen repeatedly exchanged words via the local press. The Catholic bishops of Ireland discussed the possibility of excommunicating IRA members several times during Daly's tenure, often in the aftermath of a particularly bloody attack, though no decision was ever reached. Daly was always reluctant to excommunicate and used the motto "better to communicate than excommunicate", for which he was severely criticised by the British tabloid press, but he was outspoken in his opposition to violence by both sides. He introduced a ban on paramilitary trappings at Catholic funerals and in 1976 organised a protest march through Derry city centre—a response to an increase in sectarian murders—which was joined by almost all the clergy in the city and led by Daly and his Protestant counterpart, an event which was unprecedented in the city's history.
While Daly was always willing to attend to the religious needs of IRA members, he refused to engage in any formal meeting until 1992, when John Hume—the leader of Northern Ireland's Social Democratic and Labour Party, who was attempting to negotiate a truce with the IRA, and with whom Daly was close friends—convinced him to meet Gerry Adams and Martin McGuinness. Daly later remarked that he shared much common ground with the two, particularly McGuinness, with whom he only substantially disagreed on the morality of using violence to achieve political aims.
Despite the tension between Catholics and Protestants in Northern Ireland, Daly maintained a personal friendship with James Mehaffey, the Anglican (Protestant) Bishop of Derry and Raphoe from the latter's appointment in 1980, which was described after Daly's death as "a powerful message of harmony and bridge-building". Among many joint projects Daly and Mehaffey co-founded two charities with the intent to promote community healing in Derry after years of sectarian violence. He retired from his position as Bishop of Derry in October 1993, after suffering a stroke. He was succeeded by Bishop Séamus Hegarty and in retirement took up the post of chaplain at Foyle Hospice.
Image Credit: BBC journalist John Bierman
St Eugene's Cathedral

St Eugene's Cathedral is a Catholic Cathedral, designed by James Joseph McCarthy with a simple neo-gothic style. Construction started 1849 and it opened 1873 but wasn't fully completed until 1903. It is the Mother Church for the Diocese of Derry and parish church for the parish of Templemore.