Ebrington Square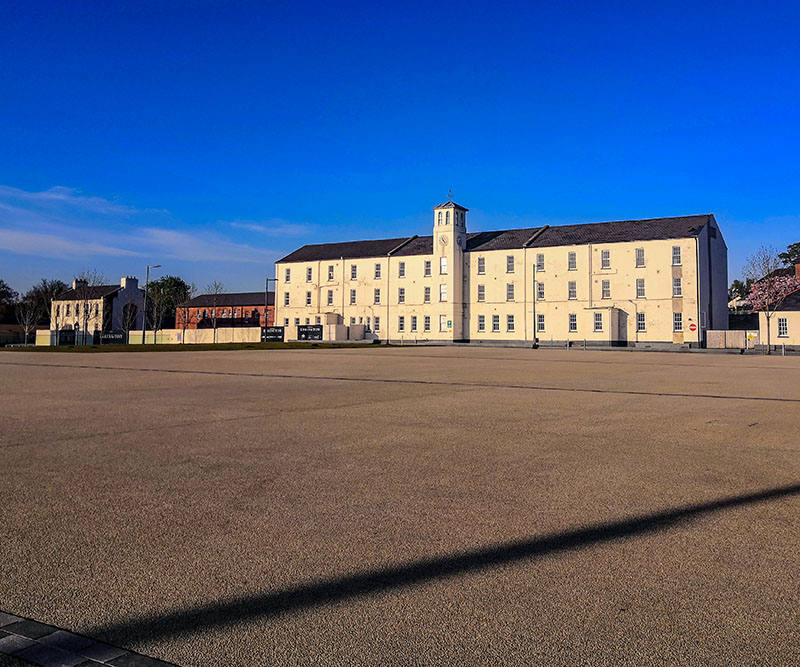 Ebrington Square is an events space in the Waterside area next to the Foyle that was formally a military barracks. Ebrington Barracks was opened in in 1841 and was named after Hugh Fortescue, Viscount Ebrington, originally the 27th Regiment of Foot and the 109th Regiment of Foot were based in the barracks.
During the first World War it was occupied by the 1st Battalion Cheshire Regiment who were part of the expeditionary Force that landed in France on 16th August 1914. During the first part of the 2nd World War, the 2nd Battalion, South Wales Borders occupied the barracks. When they were mobilised, Ebrington was handed to the navy under the name HMS Ferret and was used as a depot for ships refuelling and taking on munitions.
During the troubles the 8th Infantry Brigade were based in Ebrington and the barracks was targeted by the Republican Paramilitary groups several times one bomb in 1974 killed 2 civilian contractors. After the IRA officially disarmed, it still remained the target of Dissident republican groups who attacked it 2 times but no one was injured.
In 2003 the 8th Infantry Brigade was moved to Shackleton Barracks and the barracks was given to the Executive Office to be redeveloped for public benefit. The former parade ground was turned into an events space which opened in 2012, a year after the Peace Bridge which connects the square with the Cityside. Several local businesses have opened in the former buildings as well as the Walled City Brewery an award winning restaurant and brewery and Stables Inn a Coffee House, Bistro & Function Venue.
Next to Ebrington Square at the river front is Mute Meadow, an art work by Turner Prize nominee Vong Phaophanit and Claire Oboussier. At night the columns are illuminated with colours from the palette of the stained-glass used in the Guildhall windows, that change sequence guided by the city's sounds.
Ebrington Square is in a great location with a view over the Foyle and the Cityside. It is very accessible it's a short walk from many of the hotels and attractions in the city because of the Peace Bridge, the greenway network along the Foyle goes right past Ebrington and its close to the local train station. All visitors to the city should check out the Ebrington Website or What's on Derry Strabane for events that will be happening during their time in the city, even if there are no events to suit, all visitors will likely pass through Ebrington Square at some point.