Double Bastion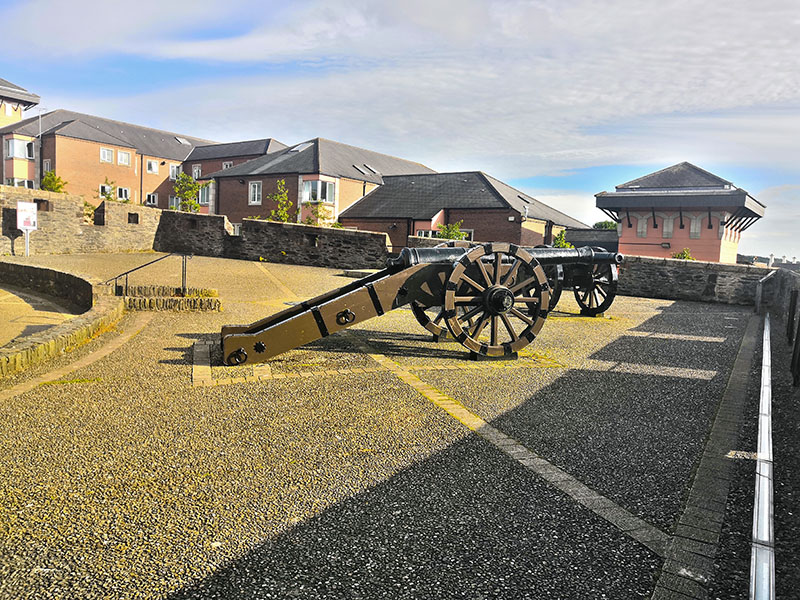 Double Bastion is in a particularly important position as it looks along 2 stretches of wall and has the best view of the surrounding area. It was originally named Prince Charles Bulwark in honour of James I son later to be Charles I but was renamed during the siege.
The cannon on this bastion both date from 1642, one was commissioned from the fishmongers which was nicknamed Roaring Meg, it was named this due to its loudness that was said to bring cheer to the townspeople and strike fear to the attackers, the other cannon was commissioned by the Vintners.
This building next to the bastion was built as the former First Derry National School, it is now the Verbal Arts Centre and the gardens of the Bishops Palace, which is now a car park, was used as an army base and watch tower during the Troubles. It also offers some of the best views of the city: on left is the Long Tower Church and St Columba's heritage; most of Creggan is visible including the cemetery and St Mary's Church; the Bogside is very visible along with some of its attractions including the murals and free Derry Corner; St Eugene Cathedral is very clear too with Brooke park and Rosemount factory behind it and in the distance on the right is Magee University is and even Pennyburn Chapel in the distance.
Part of
The Derry Walls

The Derry Walls are the most complete set of town walls in Ireland and the largest ancient monument in Northern Ireland. They were built by the Honourable the Irish Society between 1613 and 1619 to protect the new plantation city of Londonderry after the previous attempt to establish a settlement was destroyed. Like much of the old city fortifications across the world they now stand as a tourist attraction with many people coming to the city to walk along the walls.