Derry Gaol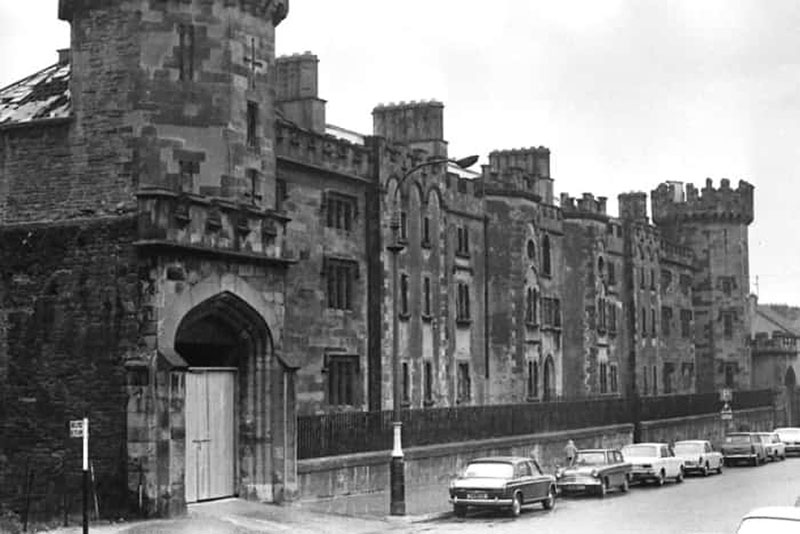 The gaol(prison) that once stood on Bishop's Street was the 3rd prison built in the city, the first 2 were inside the walls built in the Diamond in 1620 and at Ferryquay Gate in 1675. The 3rd was built in 1791 to replace the previous prisons, it was extensively remodelled into a unique horseshoe design and towers were added in 1824. It was closed in 1953 then demolished in 1973 leaving only 1 of the towers still standing which was the hanging tower.
There were several notable prisoners in the gaol including Theobald Wolfe Tone, one of the leaders of the 1798 United Irishmen rebellion. He was held here until his trial, he was taken to Dublin to be executed but was found dead before his execution, it was believed to be suicide. Eamon de Valera a rebel also spent some time here, he later became the longest serving Taoiseach and then president of the Republic of Ireland.
Versions of "The Maid Freed from the Gallows" an old Irish folk song about a maiden pleading for someone to buy her freedom from execution, were sung by Irish rebels that generally included that there was no one released from the Derry gaol:
"But the very first step he put on the gallows His blooming colour began to fade, With bitter sighing and tender crying, "Is there no releasement from Derry gaol?""
The tower that remains has been converted into a small WW1 museum that is open by appointment only.
The Heritage Tower

This tower was once part of the former Derry Gaol which was the 3rd prison in the city that was built in 1791 to replace the former Gaol that were inside the walls. The towers of the Gaol including this one were added to the Gaol in 1824, this tower was a hanging tower. The rest of the gaol was closed in 1953 and demolished in 1973 and only this tower remains.