Derry Girls Mural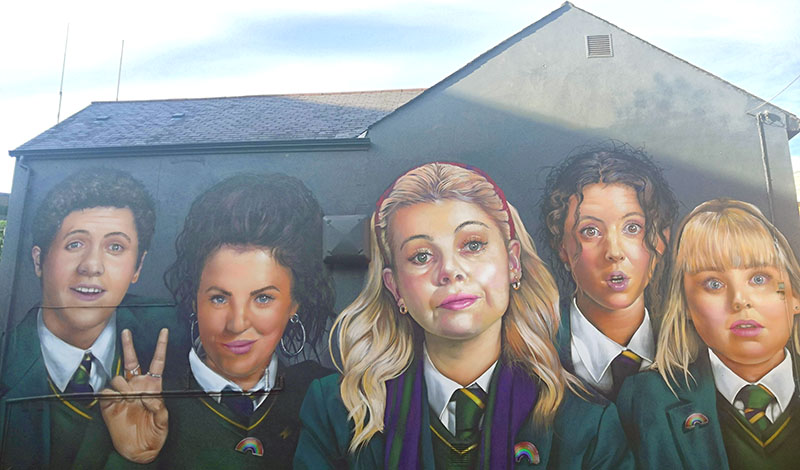 Derry Girls is a sitcom based in Derry, that first aired on Channel 4 on 4th January 2018 and is available to watch on All 4 and Netflix. It is set in the 1990s at the end of The Troubles and is based around a group of teenage girls that attend an all-girl catholic school. It is filmed in Northern Ireland, mostly in Belfast and Derry.
The show received a very good reception and is Channel 4's most successful comedy since Father Ted and it is the most watched TV series in Northern Ireland since records began in 2002. It was commissioned for a 2nd season immediately after the 1st episode of season 1 aired and the second season began airing in March 2019. A third season was due to be aired in spring 2020 but was delayed and production is due to start in 2021.
Derry Girls was written by Derry born Writer Lisa McGee and some of it is based on her own life, of growing up in Derry towards the end of the Troubles. She attended Thornhill College, an all-girls catholic school in Derry, where a lot of her inspiration would have come from. Adding real experience to the series helped allow the audience connect with the characters particularly across Northern Ireland as many people growing up at the time had the same experiences.
Lisa McGee

Lisa McGee (born 1979/1980 (age 39–40)) is a Northern Irish stage and screenwriter.
The mural at this location was painted by UV Arts who have also painted many other murals in the city. It shows the main characters of the series and is visible from the Derry Walls making a popular sight for tourists. Many tourists and locals stop to have to have their photo taken in front of the mural and it is giving the Free Derry Corner some competition for the photographed gable wall in the city.
Badgers Bar And Restaurant

Located in the heart of the city mid-way between two of Derry's most popular theatres, this venue is also a popular spot for pre and après theatre drinks. And, if you love shopping then Badger's Place is the perfect place to take the weight off your feet mid-spree, situated as it is between Derry's two largest shopping centres. Serving local fresh produce to suit all tastes.