Old Derry Docks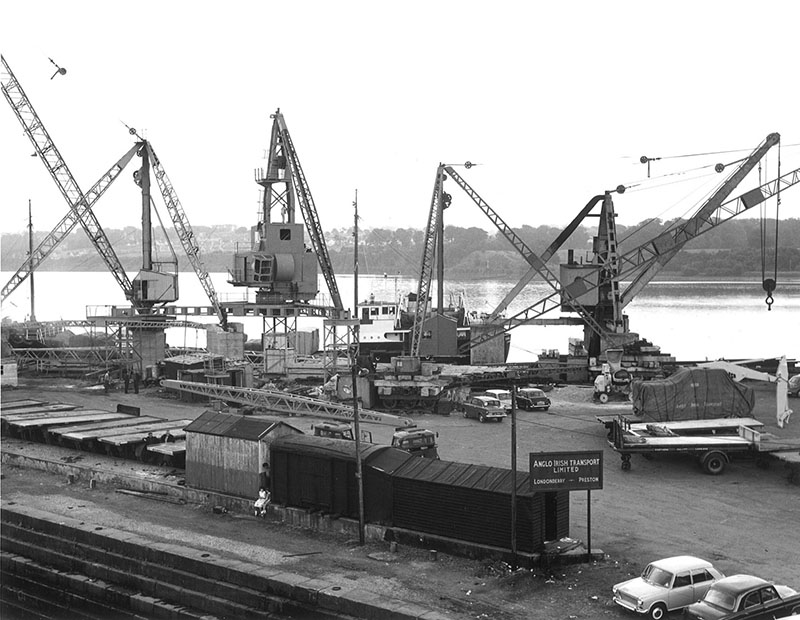 The waters of the Foyle were flowing to the ocean long before man's foot trod its banks. In early Irish history those waters carried the flimsy boats of fishermen and travellers.
In 1664 King Charles II granted a Charter to Londonderry Corporation giving it responsibility for the Port. Over the next 200 years shipping increased greatly with exports of linen and provisions, as well as emigration. In 1771 the city's merchants owned 67 ships with a total tonnage of 11,000 tonnes.
In 1854 the Londonderry Port & Harbour Commissioners were established to take control of the port and the waters of the Foyle from the city to the mouth of the Lough Foyle. Thus began strategic development of the Port.
Within seven years the Commissioners had spent £150,000 to improve facilities. From the wooden bridge at the bottom of Bridge Street, to the new graving dock at Meadowbank, a line of quays was built. Other quays were built on the Waterside and tramways were laid to link up with the railways that connected the city to the rest of Ireland.
The graving dock allowed large vessels to be dry-docked for repair and was built at an angle to the river. Granite-walled and fitted with heavy oak gates, it cost £25,000 and came into use in February 1862. The McCorkell Line ship Zered was the first to be docked there while the next ship was the Cooke Line's Doctor Kane. Both were local ships belonging to Derry-based shipping companies.
By this time the port was Ireland's fifth largest and exports were increasing. The Foyle was home to a small shipyard and so locally built ships operated from the city. The revolutionary Great Northern, the first ever propeller-driven ship, was built by Captain Coppin in the city.
Coppin had turned to ship repairs by 1854 and used the graving dock for this purpose. When he closed his repair business in 1873 the Commissioners decided to create a shipyard. They spent £25,000 to turn the slob land beside the graving dock into a yard. Charles Bigger leased this new shipyard in 1886 and, over the next five years, built 25 steel-hulled sailing ships. Some, such as the Osseo for the McCorkell Line were built for local owners.