Craigavon Bridge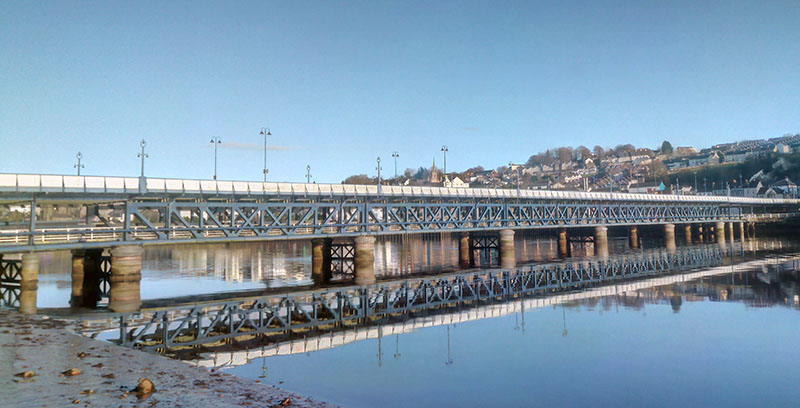 The Craigavon Bridge, named after Lord Craigavon the first Prime Minister of Northern Ireland, was opened in 1933. It was the 3rd bridge to be constructed in the area, the first was the old wooden Carlisle Bridge that was built in 1790, it was replaced by a steel version in 1863 which was about 90 metres south of the wooden version almost exactly where the Craigavon bridge is today.
The bridge is double deck steel bridge with a single carriageway road on each deck, it has a single footway on the lower deck and a footway on each side on the upper deck. It connects on the Cityside at the Hands Across the Divide Sculpture and at spencer road on the Waterside.
The bridge is one of only a few double deck road bridges in Europe and the only one in Ireland. The lower deck was originally a railway bridge that was used to transport carriages across the river between the 4 different railway networks that used to exist in the city. In 1968, when the railway lines were closed the lower deck was converted into a road bridge.
The footways on the bridge connect to walkways on each side that run all the way to the Foyle Bridge. On the city side you can walk past the City centre and Guildhall, along the Queen's Quay and through the Bay Road park before getting to the Foyle Bridge. On the Waterside, You can walk through Ebrington, St Columb's Park then along the Waterside Greenway before reaching the Foyle Bridge.
River Foyle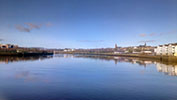 The River Foyle is the river that flows through Derry, it flows northeast from where the rivers Mourne and Finn join together at Strabane & Lifford and exits at Lough Foyle, which then exits into the North Atlantic. It is one of the fastest flowing rivers in Europe and there are 4 crossings 3 in Derry and one between Lifford and Strabane.
Foyle Bridge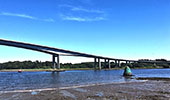 The Foyle Bridge was opened in 1984 to provide a second crossing on the Foyle in the city as the Craigavon Bridge alone was not enough for the growing amount of traffic in the city. Until the Rose Fitzgerald Kennedy Bridge was built in 2020, the Foyle Bridge was the longest bridge in Ireland at 866 metres with a longest span of 234 metres.
Peace Bridge

The Peace Bridge is a foot and cycle bridge across the River Foyle, it runs from the Quay walkway next to the Guildhall on the city side to Ebrington Square on the Waterside. It was designed by AECOM and Wilkinson Eyre Architects and symbolises a coming together of the mainly Unionist Waterside and mainly Republican Cityside.