City Walking Tours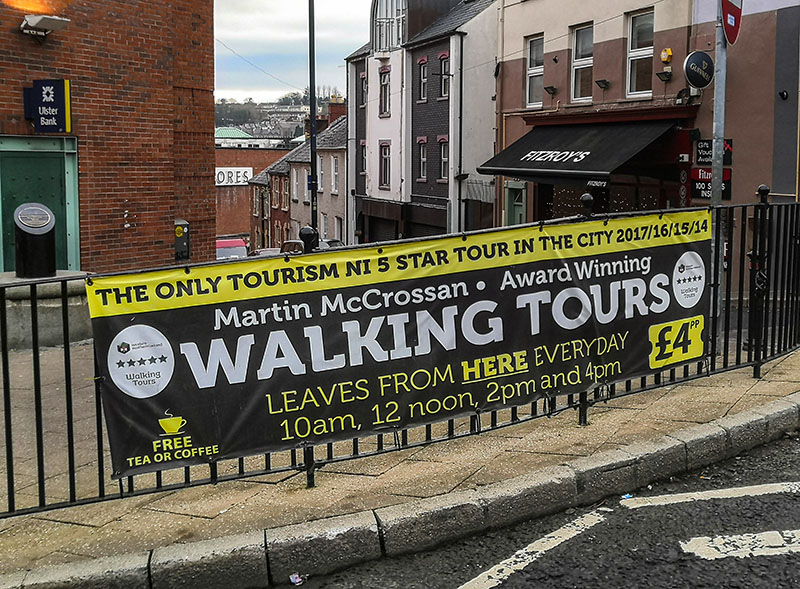 TOURISM NI 5 STAR GRADED TOUR OF THE CITY 2014/2015/2016/2017/2018
City Tours is a company with a difference. Based in the heart of the historic city of Derry, this innovative family owned tourism venture, puts choice, quality and service at the centre of its activities.
The tour has been described by many as possibly the Best Value Walking Tour on the Island of Ireland.
With over fifty natural and built attractions in the region, such as Derry's Walls, The Bogside, The Peoples Gallery (Murals) The Bloody Sunday Story, The History of the Apprentice Boys, The Marching Season Traditions. The walking tour has been listed by many as one of the best experiences they have had on their travels anywhere.
Doire, Derry, Londonderry has 1,500 years of history and culture enclosed within Ireland's only completely walled city. From the sixth-century monastic settlement to the vibrant European city of the twenty-first century, no visit to Ireland is complete without a visit to Derry.
Martin McCrossan started Derry City Tours over 20 years ago and a memorial has been erected at the top of Carlisle Road in his memory.
Book A Walking Tour Now - Only £4 per Person Leaving from 11 Carlisle Road, BT48 6JJ - Rain, Sleet or Snow our Walking Tour will go!
Times: 10.00am, 12.00 noon, 2.00pm + 4.00pm – Every day, no need to book. Just turn up. Other times can be arranged if requested minimum charge applies. Duration: 1 hour approx – can be shorter or longer depending on your needs.
Foyleside

Foyleside, located in the centre of the spectacular walled city of Derry-Londonderry, has over 50 stores offering an enticing shopping mix from the biggest High Street brands. Check out the fabulous fashion for all seasons from M&S, Debenhams, Dunnes, H&M, River Island, Topshop/ Topman, Next, Monsoon, DV8 and many more! Incorporating top brands including stunning jewellery and accessories from Pandora, H Samuel, Debenhams, Topshop and Next and a fantastic range of health, beauty products and fragrances from Boots, Semi Chem, The Body Shop and Debenhams.