Castle Gate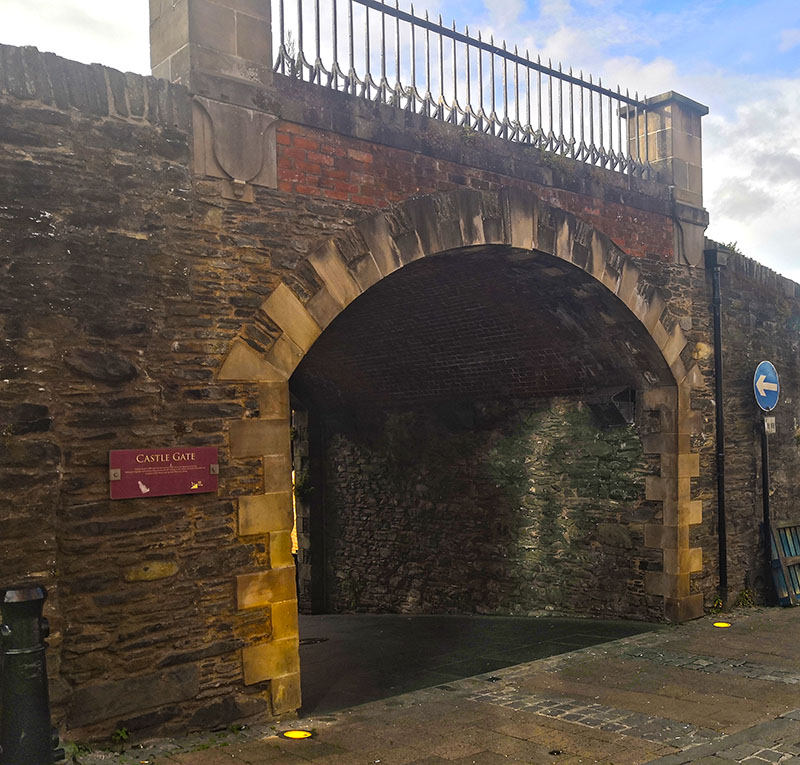 Castle Gate is narrowest and plainest of the gates, it was built in 1803 and was largely reconstructed in the 1990s. In the 18th century the city had outgrown the walls and houses and factories were increasing being built outside the walls. One of the first areas to be built up was along Waterloo street then known as Cowbog which was a meadow that was used to graze cows. This Gate was the 2nd new gate to be built and allowed easy access between Castle Lane(now Castle Street) and the buildings outside.
Adjacent to this gate would have been where the O'Doherty Fortified house would have been which is why the street and gate were named Castle, it now contains the Craft Village. This gate is pedestrian only and the adjacent streets of Magazine Street and Waterloo Street are also primarily for pedestrians. This area along Waterloo street to Castle street is a major nightlife part of the city with many of the city's most popular bars located here.
Part of
The Derry Walls

The Derry Walls are the most complete set of town walls in Ireland and the largest ancient monument in Northern Ireland. They were built by the Honourable the Irish Society between 1613 and 1619 to protect the new plantation city of Londonderry after the previous attempt to establish a settlement was destroyed. Like much of the old city fortifications across the world they now stand as a tourist attraction with many people coming to the city to walk along the walls.