Ryan McBride Stadium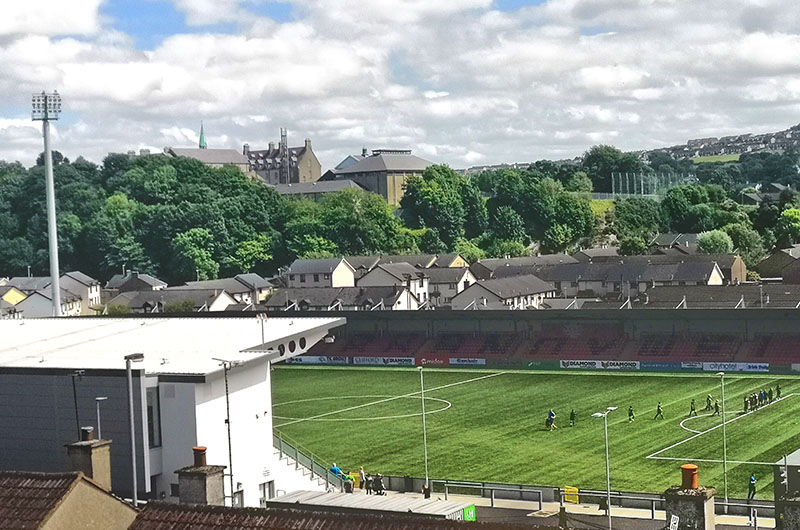 The Ryan McBride Stadium is a football stadium with a greyhound racing track attached, it is owned by Derry City & Strabane District Council. It is currently used by Derry City F.C. a League of Ireland team as their home ground and is the temporary home ground for Institute F.C. a NIFL Premiership team. It was known as the Brandywell Stadium until 2018, when it was renamed in honour of Ryan McBride who was the captain of Derry City F.C. until he was found dead suddenly in his home in march 2017. Following the completion of the redevelopment in 2018 the stadium was renamed to the Ryan McBride Stadium
The stadium was first opened in 1928 the same year that Derry City F.C. was founded, the former main football team of the city Derry Celtic were dissolved in 1913 and played in the nearby Celtic Park which is now a GAA stadium. In 1971, during the troubles the stadium was ruled to be unsafe by the police for playing professional football so Derry City played in Coleraine for the 1971-1972 season.
Despite the security forces withdrawing their objection for the 1972-1973 season the clubs of the Northern Irish league voted to disallow the use of the Brandywell. Rather than continue with the unsustainable arrangement of travelling to Coleraine Derry City F.C. left the Northern Irish League and played only junior football for the next 12 years. In 1985, the team was accepted into the football league for the Republic of Ireland.
Derry City's entry into the League of Ireland saw the return of senior professional football to the Brandywell, they quickly made it to the top division in 1987 and in the 1988-89 season won a domestic treble of the league, the League Cup and the FAI Cup and qualified for the European Cup. Since then the club has its ups and downs, downs were mostly the result of financial difficulties, the club brought some high profile friendlies to the stadium to help with its financial troubles such as Celtic, Manchester United, Barcelona and Real Madrid.
Highlights from the first game played at the redeveloped stadium
The greyhound racing track ran around the football pitch and was first raced on 29 July 1932 and continued to be used from 1971-1985 when professional football was not played at the stadium. The track was one of the smallest in Ireland but as part of the redevelopment the track was relocated to next to the stadium rather than around the football pitch. The track is managed by Brandywell Greyhound Racing Company and racing on the track takes place every Monday evening.