Derry-Donegal Border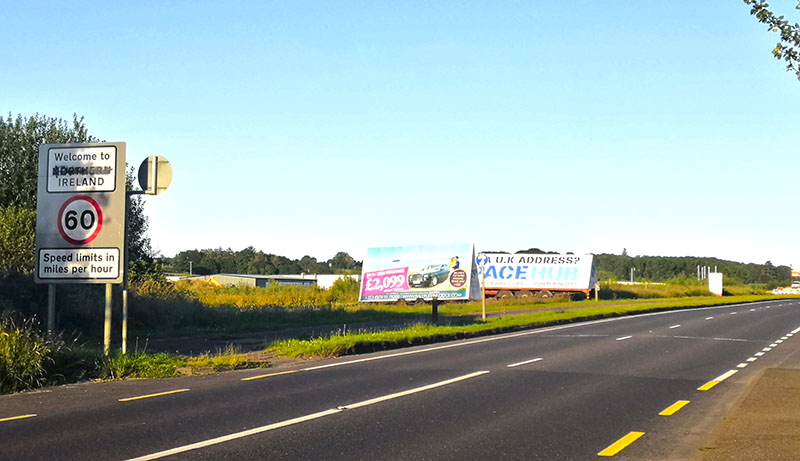 The Troubles in Northern Ireland required that attempts were made from the early 1970s until the late 1990s to enforce border controls. Many smaller cross-border roads were cratered or blockaded with the intention of making them impassable to regular traffic. Bridges were also destroyed to prevent access at unauthorised border crossings (known officially as "unapproved roads").
Derry, the second-largest city in Northern Ireland, is close to the border with County Donegal. This meant that there was a heavy security presence around the city, often impeding traffic and general movement between Derry City and County Donegal. Despite these measures, the border was simply too long and had too many minor access roads to enable control of all cross-border movements. In any case, authorised crossing-points on the border remained open to civilian traffic in both directions at all times although vehicles and their occupants were subject to detailed searches while some crossing points were closed to vehicle traffic at night when customs posts were unstaffed.
Difficulty in patrolling parts of the border and large taxation/currency differences (particularly during the 1980s) led to widespread smuggling. However, greater European integration has led to roughly similar tax rates on most items and easing of restrictions on cross-border trade. Smuggling nowadays is mostly limited to fuel, livestock and a seasonal trade in illegal fireworks, which are strictly regulated in Ireland – in both countries there are restrictions on the types which can be used and a licence is required to possess or use fireworks, but in Ireland such licences are seldom issued to private individuals.
While it still exists de jure, the border presents no impediments to traffic in either direction. This has been mainly due to the Common Travel Area between Ireland and the United Kingdom, as well as a sharp reduction in cross-border activity by paramilitaries. EU integration has also played a part. Following the Northern Ireland peace process, military surveillance has been replaced by routine PSNI patrols.