Bay Road Park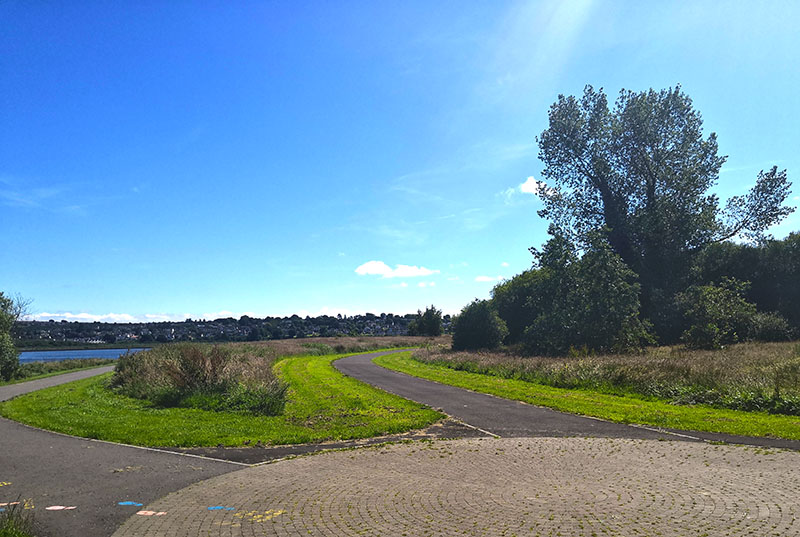 Bay Road Park is a 20 ha local nature reserve on a former landfill site, along the River Foyle, right next to the Foyle Bridge. It is a riverside greenspace containing; woodland, wildflower meadows, grassland, salt marsh and mudflats and is part of the pedestrian and cycle network. It can be accessed from several locations; the Foyle Bridge, Culmore Road, Bay Road and from DaVinci's hotel.
It is home to several types of animal, there are a variety of butterflies that fly around the wild flower meadows and lunar hornet moths that provide a source of food for Pipistrelle and Daubenton bats. There are a range of wading and wintering birds that live in the area including six priority species: redshank, herring gull, song thrush, mistle thrush, starling and bullfinch. You also might see otters down by the riverside or hedgehogs feasting on the insects if you get there early enough.
The Bay Road Park Steering Group, who were set up in 2009 work in partnership with the local council to manage the area and use it for community and educational purposes. This is the first local nature reserve set up by the council. It is also around this area where the boom that blocked access to the city during the Siege was set up and the now run down Boom Hall is right next to it.
There are big plans for this area to be set up as a vibrant tourism destination, Eden Project Foyle is a project to regenerate the area. The project will regenerate Boom Hall and the nearby walled gardens north of the Foyle Bridge that will open up 225 acres of space to the public and tourists. The plans are for this to be complete by 2023 and it will transform this historic and underused area into one of the great jewels for any visit to Ireland.