Cultúrlann Uí Chanáin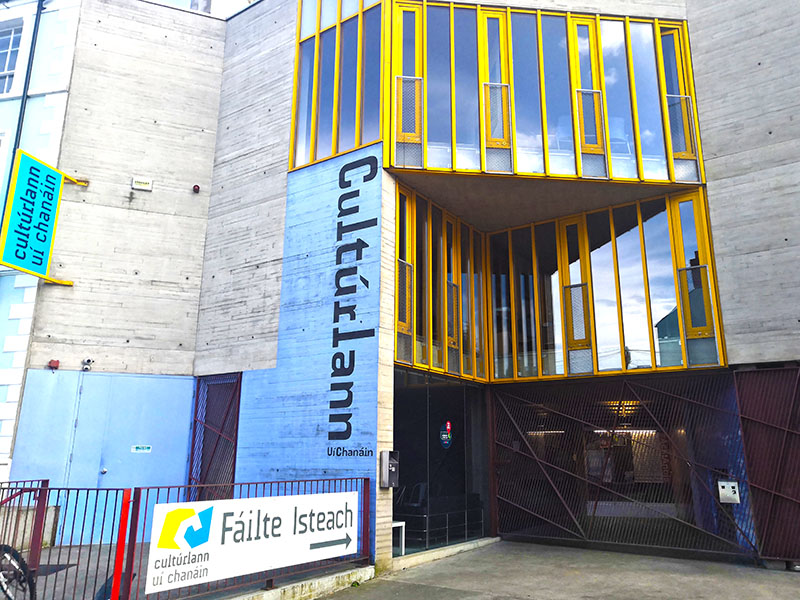 Cultúrlann Uí Chanáin is a purpose built Irish language and culture centre that delivers Irish lessons, promotes Irish culture and hosts events. The centre was built and run by An Gaeláras, it was opened on 4th September 2009, it cost £4.6 Million and its interesting design was done by O'Donnell & Tuomey. The building has won many awards, it also came second and was the first building from Northern Ireland to be nominated in the prestigious Stirling Prize competition and it represented Ireland at the Venice Biennale.
Their goals are: to increase the numbers of Irish speakers in the North West; develop a vibrant traditional arts sector; create a generation of young Irish language activists through the development of Club Óige Setanta; create a bi-lingual environment in Derry and the North-West through the development of an urban Gaeltacht Quarter and promote awareness of cultural identity between the Irish-speaking community and those within the Protestant community.
In 2001, An Gaeláras purchased the bakery building in Great James Street and got planning permission to demolish the building and create a new purpose built Irish language centre. It took till January 2008 to gather the money required to build the new centre and a year and half later in September 2009 Cultúrlann Uí Chanáin was opened. They continue to grow and since then have acquired 3 adjacent buildings, including the glassworks, a former 19th Century Georgian Church and plan to turn the area into a cultural quarter.
Cultúrlann Uí Chanáin host a range of events mostly focused on traditional Irish culture in the 200 seat function room/theatre of the main building and in the former church building. There is a café on the ground floor that also provides catering and refreshments for events. There is a small Irish book/souvenir shop at the entrance and the upper floors contain rooms available for hire. They run an Irish programme year round that includes Irish language classes, traditional Irish music classes and community programmes.
Cultúrlann Uí Chanáin is probably the best place in the city to enjoy Irish culture, visitors especially those with an interest in Irish language or culture should check out what events are on during their stay. Even if there is nothing of interest is on, its location in the city centre on the way to St Eugene's and Brooke Park make it a good location to stop in and have some lunch and check out the award winning architecture.