Amelia Earhart Landing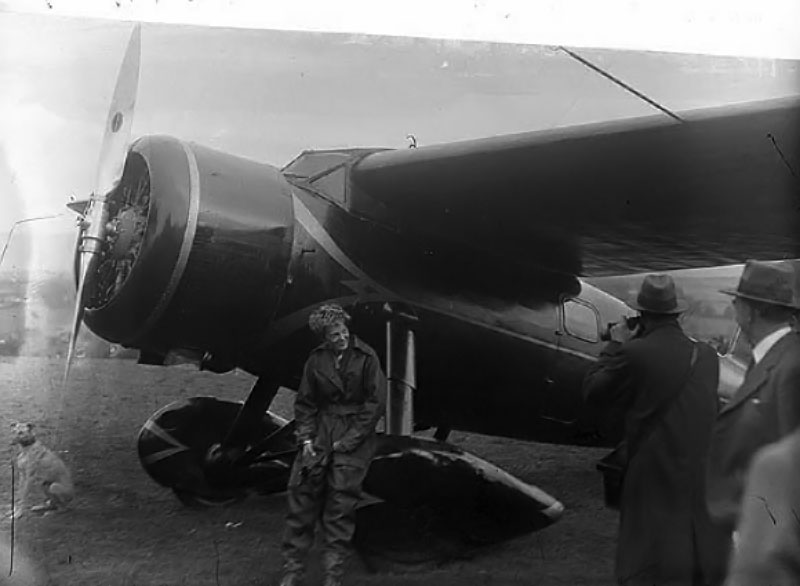 Amelia Earhart became famous as the first woman to be flown across the Atlantic in 1928, Amelia was a woman of adventure so this never really satisfied her so she set out on secret plans she made with her husband George Putnam to become the first woman to fly solo across the Atlantic. On 20 May 1932 with the technical help of Norwegian American aviator Bernt Balchen who also acted as a decoy to draw press attention away from Amelia, she set off on her own from Harbor Grace, Newfoundland in her red Lockheed Vega 5B. Her aim was to replicate Charles Lindbergh's flight 5 years earlier and land in Paris, she took with her little other than tomato juice and a copy of the Telegraph-Journal given to her by journalist Stuart Trueman.
A flight across the North Atlantic was no easy trip in those days, the cold strong unpredictable winds give trouble even to modern aircraft. After almost 15 hours of flying her plane started to struggle, she was flying low with hope to find somewhere to land, she was still over 500 miles away from Paris but luckily she flew into Ireland and set down in a cow field just north of Derry close to Culmore. 2 local men were mending fences nearby and witnessed the right red plane circling overhead and then making an awkward landing scaring all the cows in the area, when they first approached the plane they asked "have you flown far" and Amelia replied "only from America".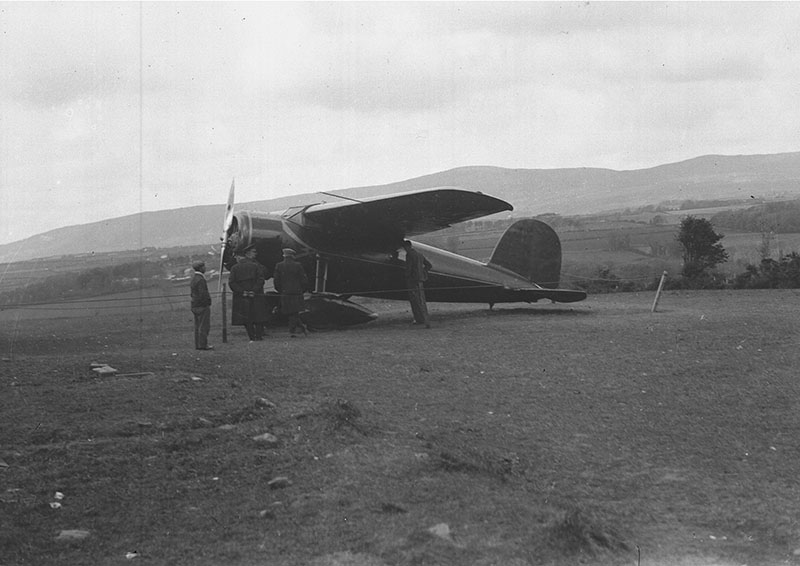 Central Library, Derry
The owner of the field Robert Gallagher and his wife also witnessed the landing from their home and came to see what was going on. While they and everyone else was quite excited and confused at what had happened, Amelia was modest and calm and only wanted to contact her husband to let him know she arrived safely. She was invited to the Gallagher's who had prepared refreshments, Amelia drank 2 cups of tea and asked to use the telephone to phone her husband. The phones lines at the Gallagher's were not able to make such a long distance call so Robert Gallagher took her to the Central Post Office in Derry where she was able to phone the Press Association in London.
In the post office she booked a call to her husband and contacted the associated press in London to give a first hand account of what happened.
"I took off from the famous Harbour Grace runway (Newfoundland) at dusk, about 7:30pm I believe. I flew for a couple of hours while sunset lasted and then 2 more hours as the moon came up over a bank of clouds. I had fair weather for about 4 hours. Then, I ran into a storm which was one of the most severe I have ever been in. I milled around in the storm for probably an hour and with difficulty, kept my course. I had been troubled with my exhaust manifold burning through all night. A weld broke shortly after I left Harbour Grace and I could see the damage increasing as the night wore on. I found specific thunderstorms probably off the coast of Ireland. I believe I saw land first around the middle of Ireland…I decided to come down anyway in the best available pasture. I got down without any trouble and taxied to the front door of a surprised farmer's cottage."
While she was on her calls, calls and cables started pouring in to the post office from all over the world until one saying "New York calling" came in and it was the call she was waiting on from her husband. She spoke with him for 15 minutes giving details of he near escape after one of the worst storms she had ever experienced. While she was on the phone hundreds of people gathered outside the post office and messages started pouring in from all over the world with congratulations including from president Hover. She had difficultly getting back to the car she came in and took refuge from the crowds inside the Northern Counties Hotel next door, after taking a few minutes to recover and prepare she gave a press conference outside.
She had many offers on where to spend the night including Stormont castle but instead chose to return to the Gallagher's home where Isobel Gallagher had already prepared a grand meal, she probably want to stay near here plane. She then retired for the night at 11:00pm, then woke 7 hours later and the field she had landed in had become a temporary airfield, 4 other planes had joined her Vega and there were hundreds more sightseers and media gathered. After breakfast she posed for pictures with her plane, Her plan was to fly her plane to London then on to Paris but the plane was not in good enough condition to do it so she was taken to Blackpool by a plane from National Flying Services by Paramount Newsmen in the early afternoon.
By flying solo across the Atlantic she set 3 records; the first woman to fly solo across the Atlantic, the fastest crossing of the Atlantic and the longest non-stop flight by a woman. She received many awards from across the world including; the Cross of the legion of Honour from France where she was originally supposed to land; a gold medal from National Geographic Society that was given to her by president Hover in the Whitehouse and Distinguished Flying Cross presented by Vice-President, Charles Curtis governor of her home state of Kansas, she was the first woman to be awarded this.
Although she only stayed only 1 day she had huge impact on the city still remembered to this day, in those days a car was a rare sight in the city so most had never seen a plane up close if at all. The cottages here were used as a Museum for Amelia Earhart but being so far out of the way it didn't draw many visitors so was closed. There are often events in the city for Amelia Earhart including the Amelia Earhart Festival and there is a lounge in the City of Derry airport known as the Amelia Earhart Lounge.
Amelia Earhart

Amelia Earhart was an American aviation pioneer and author, most famous for being the first woman to fly solo across the Atlantic where she landed in a field outside Derry. She was also a best selling author that wrote books on her flying experiences, set other records and firsts, and was important for the founding of the 99s an organization for female pilots. She disappeared in 1937 when trying to circumnavigate the world by plane.