Amelia Earhart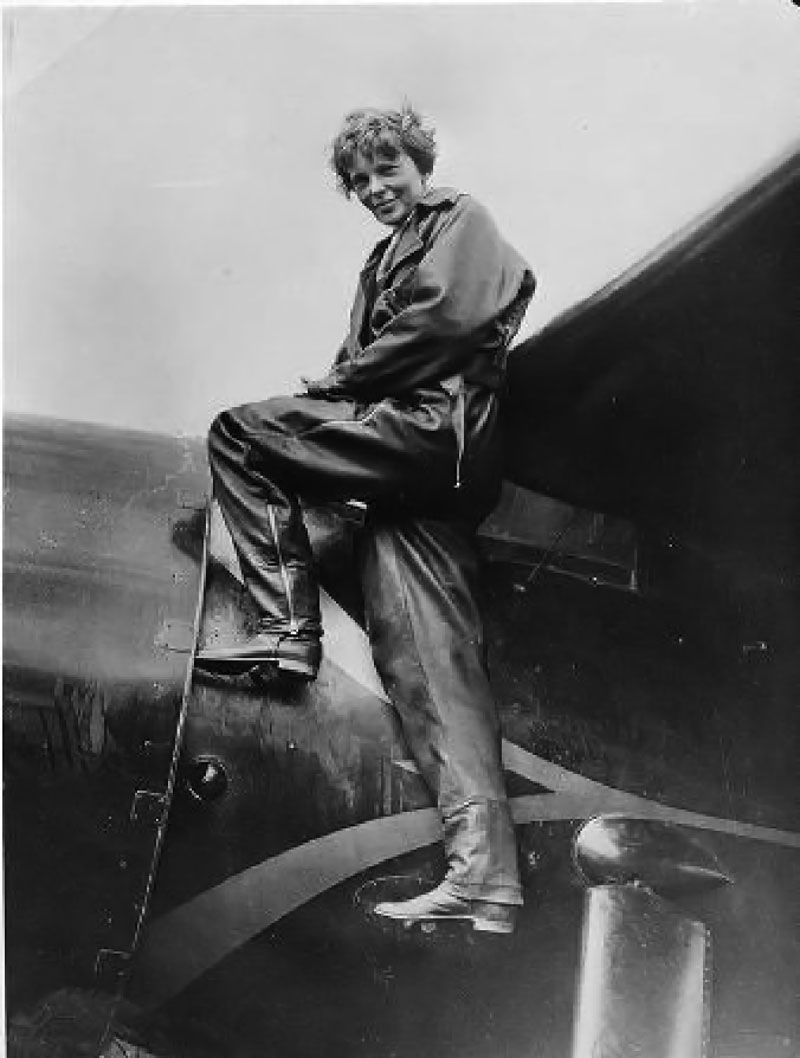 Amelia Earhart was an American aviation pioneer and author, most famous for being the first woman to fly solo across the Atlantic where she landed in a field outside Derry. She was born in Atchison, Kansas from a young age she loved adventure and at the age of 7 got her first taste of "flying" when she created a ramp and went over it in a wooden box. Her first experience with a plane didn't go well, when her father wanted to take her on a flight on a biplane she called it "a thing of rusty wire and wood and not at all interesting".
When she was 23 she first got on an airplane at Long Beach, California, she got a ride from famous World War I pilot Frank Hawks and immediately before they were even 100m off the ground she said "I knew I had to fly.". She worked several jobs to save up the $1000 she needed for flying lessons and received her first lesson from Anita Snook, another pioneer female aviator, on 3 January 1921. Later that year she purchased a second-hand bright yellow Kinner Airster biplane that she named "The Canary" and she became the 16th woman in the united states to be issued a pilot's license.
It didn't take her long to start setting records on 22 October 1922 she flew her Canary to 4,300m(14,000 feet) which was a record for female pilots. After Charles Lindbergh solo flight across the Atlantic in 1927, interest in being the first female to fly or be flown across the Atlantic developed. Amy Guest wanted to be the first but decided it wasn't for her so instead sponsored the project. In April 1928 Earhart got a phone call from asking her would she like to fly the Atlantic, she was mostly a passenger on her first flight but also had responsibility for keeping the flight log. The plane, a Fokker F.VIIb, was flown by Wilmer Stultz and the co-pilot/mechanic was louis Gordon, the flight left from Trepassey Harbor, Newfoundland and landed in Burry Port, South Wales, after 20 hours and 40 minutes.
On return after the transatlantic flight they were greeted with a ticker-tape parade in the Canyon of Heroes, Manhattan and a reception with President Calvin Coolidge at the White House. This helped turn Earhart into a celebrity. She started doing endorsements, lectures and wrote books, this led to a wide range of promotional items with her name on it.
She also promoted the development of aviation services across the United States, she was among the first aviators to promote commercial air travel and along with Charles Lindbergh she represented Transcontinental Air Transport and invested in setting up the first regional shuttle service between New York and Washington. She was also vice president of National Airways which later became Northeast Airlines. Earhart helped set up and became the first president of the Ninety-Nines in 1930, an organisation of female pilots that still exists today.
Earhart was never satisfied with being the first woman to be flown across the Atlantic so she set out on 20 May 1932 from Harbour Grace, Newfoundland, on her own, in her now famous red Lockheed Vega 5B with the intention to fly to Paris to emulate Charles Lindbergh's flight 5 years earlier. After 14 hours 56mins, she was caught in strong northern winds and icy conditions, her plane had engine trouble and cut her flight short by landing in a field just north of Derry.
Amelia Earhart Landing

On 20th May 1932 Amelia Earhart set off from Newfoundland Canada aiming for Paris to become the first woman to fly solo across the Atlantic. Due to poor weather conditions and mechanical trouble she was forced to cut her journey short instead landing in a field north of Derry. For this feat she received the Distinguished Flying Cross from Congress, the Cross of Knight of the Legion of Honour from the French Government and the Gold Medal of the National Geographic Society from President Herbert Hoover.
For being the first woman to cross the Atlantic solo and the 2nd person to cross the North Atlantic solo, Earhart was awarded the Distinguished Flying Cross from Congress(she was the first women to be awarded this), the Cross of Knight of the Legion of Honour from the French Government and the Gold Medal of the National Geographic Society from President Herbert Hoover. Following this Earhart developed many friendships with people in high offices, most notable was First Lady Eleanor Roosevelt. Roosevelt shared a lot of Earhart's interest especially in women's causes and continued to communicate till Earhart went missing.
Amelia Receiving her National Geographic Society medal from president Hoover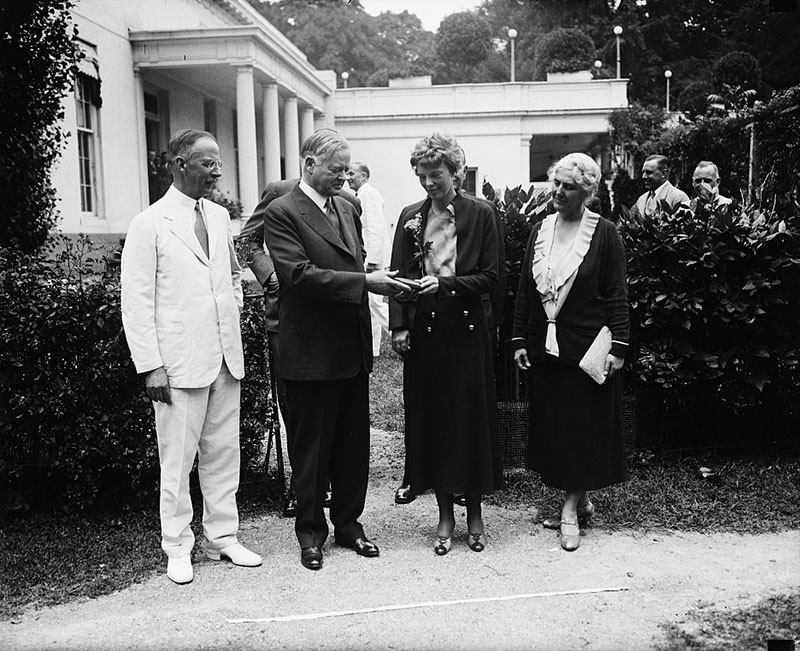 Library of Congress Prints and Photographs Division
She continued to set records following her trip across the Atlantic, she became the first woman to fly solo non-stop across the United States and the first person to fly from Hawaii to the mainland. In 1936 Earhart started planning an around the world flight, it was planned to be her last major flight, others had done it before but Earhart would be the first female and it was going to be the longest at about 47,000km as it flew mostly around the equator. Her Famous Vega was not suitable for this flight so she had a new Lockheed Electra 10E built to her specifications, Earhart dubbed the twin engine monoplane her "flying laboratory".
On the first attempt, her crew consisted of Captain Harry Manning as her navigator; Fred Noonan as a second navigator as different types of navigation were required to complete the trip and Paul Mantz as technical advisor. The first attempt didn't make it far they required repairs due to lubrication and galling problems with the propeller hubs' variable pitch mechanisms after the first leg to Hawaii. Then when taking off for the second leg to Howland island the landing gear collapsed and the plane received serious damage and had to be shipped back to the US by boat for repairs.
After repairs and additional fundraising was complete Earhart began her second attempt this time going the opposite direction from west to east. This time only Fred Noonan accompanied Earhart and the flight made it almost the entire way but the plane went missing during the 2nd last leg of the trip from Lae, New Guinea to Howland Island. Based on radio signals it was believed that she got close to the Island but problems with the radio navigation system they were using failed due to the plane being unable to receive signals from the USCGC Itasca which was to guide the plane to the island and weather conditions would have made it difficult to spot the island from the air.
The USCGC Itasca started searching about an hour after the last message was received and searched to the north and west of the island as it was believed they passed the island. The United States Navy joined the search and directed all available resources to the area. The official search lasted 17 days and was the largest and most expensive search and rescue attempt made by the United States up until that time. Her husband George Putnam financed a private search but also found no trace. Earhart was declared dead in January 5, 1939 and till this day it is still unknown what happened to Earhart and her plane, there are many hypothesis on what happened some are realistic and some are not so realistic.
While Amelia Earhart's life was cut short her legacy and influence is long lived, she is known as a feminist icon, has had many books and articles written about her, there is a museum in her birthplace run by the Ninety Nines and she inspired a generation of early women pilots. She continues to be honoured in Derry, the area around the Central Post Office and Northern Counties hotel was where she sent her telegrams back home and gave her press conference. A plaque on the wall of the Northern Counties hotel was placed by the Amelia Earhart Legacy Association in 2019.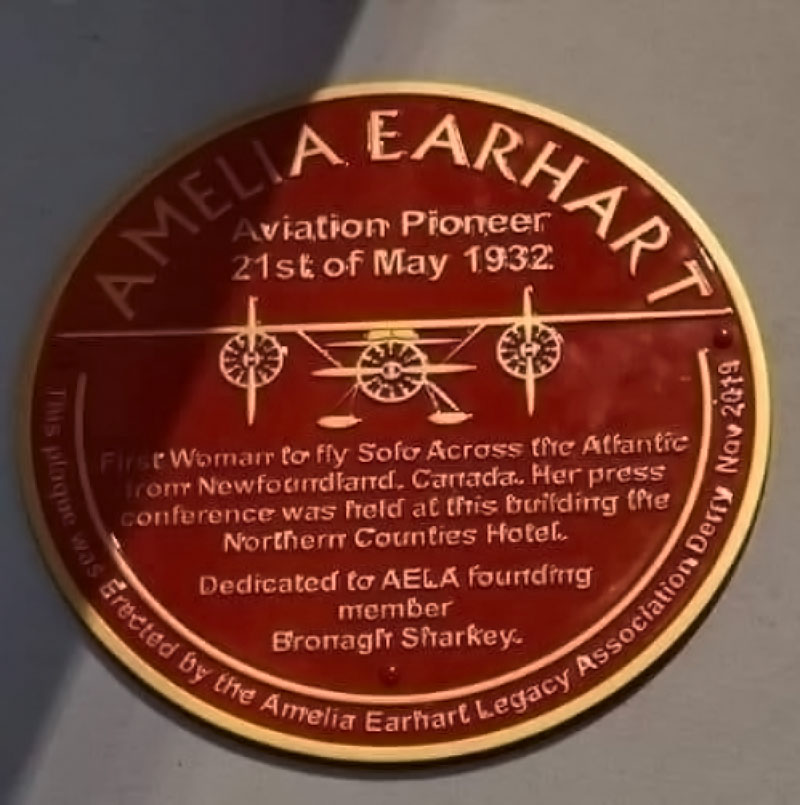 Amelia Earhart Legacy Association
Northern Counties Hotel

The Northern Counties Hotel was opened in 1902 with a Victorian Arts and Craft Style, it was an upmarket hotel that held dances and events for the cities elite. It was a hotel until the 1960s following that it was a restaurant with office accommodation above. It was badly damaged during the troubles by several bombs but was restored in 2002 and now houses retail units on the ground floor and offices on the upper floors.